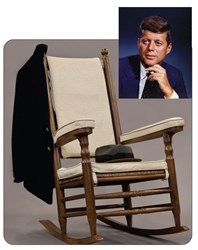 Amesbury, MA (PRWEB) November 05, 2013
Beginning on November 22, John McInnis Auctioneers will present "THE LEGENDS AUCTION," an event holding within it intrigue, mystery, controversy and fact. Over 1,500 lots will be sold related to President Kennedy, his family and his contemporaries from that important era in American history: Hollywood mogul Milton Ebbins, President Kennedy's brother-in-law Peter Lawford, Frank Sinatra and the Rat Pack, Marilyn Monroe, Ernest Hemingway and many more.
The sale will begin at 3 pm EST on Friday, November 22 with an autographed Warren Report, AP wire bulletins from the days surrounding the President's death, the Wall Street ticker tape from the day of the shooting, unique collections of photos of President John F. and Jacqueline Kennedy by world-renowned photographers Jacques Lowe and Hy Peskin. The session will end with unseen Ernest Hemingway letters, private photos and signed books from the heir of his close friend in Cuba, Roberto Herrera.
In the second session on Saturday November 23, exciting and interesting lots reveal intimate portraits of the Kennedy family and friends at work and play, including the President's "Summer White House" rocking chair used at Cape Cod, President Kennedy's fedora, items from the heiress of Kirk Lemoyne "Lem" Billings, JFK's best friend, including the President's cashmere blazer, extraordinary Jacqueline Kennedy fashion correspondence, an important Felix de Weldon bronze sculpture, three watercolors hand-painted by President-elect Kennedy, recently declassified Cuban Missile Crisis material from the Estate of Dave Powers, a masterful dye transfer print by Owen Brown and a unique framed collection of 50 bill signing pens used by Presidents Kennedy and Johnson. Additional photo collections will include those of Cape Cod based Kennedy photojournalist Frank Falacci, celebrity photographer Frank Mastro, and rare original negatives from John F. Kennedy's early political career.
On Sunday, the third session will offer an astonishing collection from the heir of Hollywood mogul Milton Ebbins, manager, business partner and close friend of actor Peter Lawford. The records of Chrislaw Productions, which were given to Ebbins after the company dissolved and were held hidden in storage for over four decades, illustrate the link between the Kennedy White House and Hollywood during the golden age of Camelot. Other items include guest lists, movie scripts, casting notes, private phone logs and more related to many of the Kennedys, the The Rat Pack: Frank Sinatra, Dean Martin, Peter Lawford, Sammy Davis Jr. and Joey Bishop; Marilyn Monroe and her death, Patty Duke, and many more.
With over 1,500 lots it is impossible to touch on all of the highlights. Please note: Before 3 pm on Friday November 22, the gallery will be open for preview exhibition only. Out of respect for this somber anniversary, the gallery will allow quiet time and moments of silence so that those like-minded individuals may honor the memory of President Kennedy. The entire collection with full descriptions and estimates is available online at http://www.mcinnisauctions.com. John McInnis Auctioneers is located at 76 Main Street, Amesbury, MA. Reserved auction seating is also available.