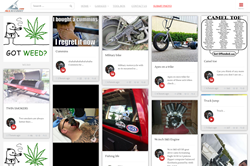 "I couldn't believe the traffic! I was getting over 500 hits every 20 minutes and the funny part is, we had to hide the post on facebook at 10,000 hits because our servers almost crashed, typically we get over 130k in views each post" John Nicolazzo
(PRWEB) August 15, 2014
What initially started as a joke between a couple of friends has quickly grown into a reputable name among social media fan groups and has become one of the most unexpected and viral-driven campaigns to date. The fan page appropriately named "All Man Sh*t" or A.M.S. for short, originally had humble beginnings that started in a local smoked filled blue-collar bar. Little did they know this social media fad would later become a viral sensation.
Aspirations were originally set at achieving 100,000 Facebook fans, a monumental goal for an idea that was once considered nothing more than bar talk. As of today, A.M.S. has exceeded 500,000 plus Facebook fans and continues to grow at a significant rate.
The success of A.M.S. is due in large part to the witty and relatable content their followers have grown to love. A.M.S stays heavily engaged with their fans receiving hundreds of photos a week, in turn providing authentic "Man Sh*t" content to share. More and more social media users each and every day are finding humor and satisfaction in the frequently updated posts on All Man Sh*t's social portals.
This established social media brand has now set its sights on expanding its resources to a fully operational and user-friendly domain to better support its content. A.M.S. fans are greatly anticipating the roll out of its all new domain as well as expansion in the overall social network market.
Along with the new website (AllManSh*t.com), A.M.S. is striving to become a solidified brand, rumors of apparel have come to surface. With aspirations set high and resources fully implemented, All Man Sh*t is set to become one of the most popular social media groups on Facebook. Especially with a motto that goes a little something like this: "Real people - Real photos - Real man sh*t."