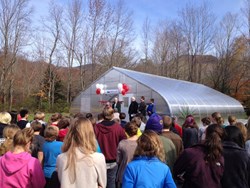 We felt like Rimol gave us something that was not only within our budget," said Worland. "But also provides a good package of elements to work with.
Dorset, VT (PRWEB) November 06, 2013
Vermont's Long Trail School is the latest beneficiary from Rimol Greenhouse Systems' national run in production. The private school's 26'x48' Northpoint Greenhouse was recently erected and finished in early-September.
The greenhouse, made possible through the Sarah K. de Coizart Article Tenth Perpetual Charitable Trust, is scheduled to offer fresh produce for the school's cafeteria, which leaves faculty, staff and students excited about its production.
"The first half of the greenhouse crop is to be lettuce and spinach for the cafeteria," said Science Department Chairman, Scott Worland. "The other half is dedicated to plant-science research."
Rimol's New England ties were important for Worland and his associates. The Vermont school had been in the market of acquiring a new greenhouse for the past several years.
"Rimol's name came up when talking to a few different people. I was familiar with it and we just went from there. What we really liked most about Rimol is they're a New England-based company, so they know how critical snow load is for a greenhouse," Worland said.
The Northpoint Series was designed as one of Rimol's original greenhouses. It's built primarily for handling harsh snowfall and high winds, which bodes well for Long Trail's western-Vermont location.
Worland also said the greenhouse opens up dynamic fundraising opportunities they never had before. They plan on implementing vegetables and ornamental items as part of future fundraising events.
"We felt like Rimol gave us something that was not only within our budget, but also provides a good package of elements to work with. We're extremely pleased."
About Rimol Greenhouse Systems:
In 1994, Bob Rimol, owner of Rimol Greenhouse Systems, decided to leave his home state of New Jersey and relocate with his young family to New Hampshire. Bob began working as a greenhouse manufacturer's representative specializing in structures and systems. However, he soon realized the need to "build a better mousetrap" and set out to customize greenhouse technology in order to better suit the needs of his customers. Bob then founded Rimol Greenhouse Systems in order to provide innovative and quality greenhouse technology for local growers.
Rimol Greenhouse Systems has since developed a number of free-standing greenhouses, benches and an entire line of products to complement the greenhouse structures. Other structures include the movable The Rolling Thunder™, high tunnels, and hydroponic systems. All Rimol Greenhouses are designed to be economical, yet rugged enough to handle the harshest snow and wind conditions experienced in New England and many other regions of the country.
Today, Rimol Greenhouse Systems has become a major greenhouse manufacturing company and has developed a brand name synonymous with quality. Although the company has grown and expanded, Rimol Greenhouse Systems still ensures that it is meeting the individual needs of every customer. Rimol products can be found all across the United States.