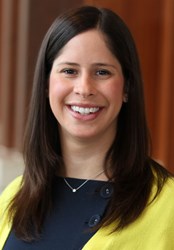 Indian Land, SC (PRWEB) November 04, 2013
Samantha Adorno has been promoted to Director of Digital Marketing for the family entertainment network, INSP. The announcement was made by Tom Needham, VP of Digital Marketing and Strategies for INSP.
"Sam has been an invaluable member of our team since she joined us last year," said Needham. "Her creativity and exceptional attention to detail can be found on the recently redesigned insp.com website, which she conceptualized, spearheaded and executed flawlessly. Not only is she adept at forecasting and solving problems, but her 'take charge' attitude is refreshing and contagious. Sam's promotion is well-earned, and I look forward to more great things from her."
In addition to overseeing the launch of insp.com, Adorno has executed digital marketing campaigns that have assisted INSP's affiliate and sales teams in securing increased network demand requests in key target markets. She also manages the digital platform for INSP's award-winning and critically-acclaimed short-form series, Moments.
In her new role, Adorno will develop and implement strategic audience building plans to support both digital initiatives and linear growth that result in online traffic and video streams; audience engagement; and the strategic rollout and measurement of video content. She will be the lead on all digital marketing strategies and the key point person driving strategy.
Before joining INSP, Adorno had worked at Discovery Networks as the Digital Media Marketing Manager and served as the advisor to the network marketing teams of TLC and Animal Planet. She was a four-time Stellar award recipient (an employee performance award given to those who went above and beyond their job description). She also worked as a Creating Change Volunteer where she was a part of a team that worked with the Washington Animal Rescue League (WARL) to create a marketing campaign that helped place special needs pets in permanent homes.
Adorno, who graduated from the University of North Carolina at Chapel Hill with a Bachelor's of Arts degree, resides in Charlotte, N.C.
# # #
About INSP
INSP is available in more than 75 million households across the U.S. via cable, DirecTV (channel 364), Dish (channel 259), AT&T U-verse (channel 564) and Verizon FiOS (channel 286). Viewers can find INSP channel information here. For quality dramas, positive entertainment and inspiring stories, celebrating the American spirit and honoring timeless traditional values, it's INSP. Welcome Home!
Contact: Tara Brown
803-448-2698
tara.brown(at)insp(dot)com