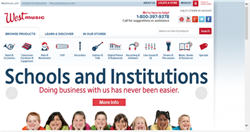 "The functionality of the site is a perfect demonstration of the benefits of automating complex pricing, shipping rules and processes required to facilitate transactions in a business to business relationship.
Coralville, Iowa (PRWEB) November 05, 2013
West Music Company, one of the largest retail, catalog and online music sellers in the United States, announces the re-launch of its e-commerce new and improved sites WestMusic.com and PercussionSource.com, combining multi-channel ordering options, tips and tutorials to help consumers, schools and institutions experience the power of making music. The new sites facilitate learning and buying for consumers, businesses and educational institutions alike. With the ShopVisible Platform, West Music is now more equipped to better serve the needs of their B2B audience as well as individual consumers online, a feat that had once seemed nearly impossible.
West Music Company has established itself as a product expert in music education, having provided and serviced musical instruments to individuals and institutions since 1941. The company developed its first e-commerce site in 1996, but has maintained a B2C shopping experience for its musician customers more than 70 years. As its institutional and school music business developed, West Music wanted to serve its B2B customers with the same great experience it provided its B2C shoppers. West Music turned to ShopVisible for its award-winning technology and industry expertise to launch new e-commerce sites that serve both B2B and B2C buyers and feature leading edge functionality to support the ever-expanding needs of its buying audiences.
Specifically, the new sites now offer customers an enhanced online user experience with the option to rent or lease instruments and accessories online, view videos with tips on repair and cleaning, as well as review and rate products providing valuable community content for West Music's buying audience. Moreover, the commerce sites now provide schools and institutions enhanced opportunities that address the unique modern purchasing framework of school purchasing agents, principals, secretaries and teachers.
"In the past, schools would need call in or fax large orders that would have to be processed manually, requiring a great deal of time and paperwork," said Ryan West, senior vice president of West Music. "Now, our order process has dramatically improved, boosting efficiency on the back-end and empowering schools to customize their own payment, shipping and billing options. The ShopVisible platform offers an abundance of features that give us the ability to not only improve ordering processes for our customers, but build on-going customer loyalty through interactive tools integrated into the site."
"ShopVisible is pleased to partner with West Music, completely streamlining the online purchase experience for West Music and Percussion Source's B2B and B2C shoppers," said Sean Cook, CEO of ShopVisible. "The functionality of the site is a perfect demonstration of the benefits of automating complex pricing, shipping rules and processes required to facilitate transactions in a business to business relationship. We are confident that these new features will allow West Music to increase its online sales and improve customer loyalty."
About ShopVisible
The 2012 recipient of the SIIA CODiE award for Best Electronic Commerce Solution, ShopVisible is an end-to-end SaaS commerce platform that powers the shopping experiences of today. Whether your customer is an individual consumer or a business, we power the commerce sites that enable them to buy from you. Reach your customers online, on their mobile devices or through popular channels like Amazon and eBay. ShopVisible also enables your back office management including orders, inventory, channel, content management and more. With our APIs, the ShopVisible commerce platform is extensible and easily integrates to 3rd party systems such as fulfillment, ERP, PIM, and other platforms that are core to your business. ShopVisible helps brands and businesses to attract and retain the new connected customer and is the chosen platform for companies like London Fog, Tempur-Pedic, Office Depot Canada, Plow & Hearth and MovieMars. Learn more at http://www.ShopVisible.com and by following @ShopVisible.
About West Music
West Music Company began over 70 years ago as a family-owned, retail and repair shop providing quality service and opportunities for all people to experience the power of making music. Over time, inventory expanded to include not only band instruments and pianos, but guitars, drums, percussion, and amplifiers, driving the company to eventually becoming a wholesaler, importing instruments from all around the world for distribution. WestMusic.com, the ecommerce component of the business was established as the natural evolution of their national catalog business dedicated to music education and music educators. The catalog has a wide variety of classroom music products, percussion products, orff instruments, and print music. In 1996, Percussion Source was established under the West Music umbrella, providing products for symphonic and concert percussionists nationwide including a full selection of marimbas, vibraphones, timpani, and sticks and mallets from major national brands such as Vic Firth, Pearl, Adams, Sabian, and Zildjian. West Music now has over 180 Associates, six regional locations in Eastern Iowa and Western Illinois including repair, lessons, and Music Therapy services, and multiple e-commerce websites and catalog departments.