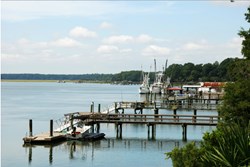 Best Places to Live in Coastal South Carolina
Bluffton, South Carolina (PRWEB) November 04, 2013
The South Carolina Lowcountry is one of the most desirable places to live in the Southeast, especially for those looking to relocate from the Northeast. What is it about the coastal Carolinas that is so appealing? Weather for starters! Mild winters and long sunny summer days beckon to enjoy life outdoors year-round. Real Estate Scorecard believes it's the unspoiled islands, active wildlife and the soothing sea are also magnets attracting retiring Baby Boomers. In 2013, restructured membership fees and a la carte amenities make Callawassie Island and Oldfield Club even more attractive.
Tucked between America's Happiest Seaside Town of Beaufort and America's Best Beaches on Hilton Head Island is the laid back town of Okatie. Real Estate Scorecard thought it would be helpful by comparing two of the most well known gated communities in Okatie; Callawassie Island and Oldfield Club:
CALLAWASSIE ISLAND
880 acres
Gated Entrance
Approximately 505 homes built of the 700 planned
27 Hole Tom Fazio designed Golf Course
26,000 square foot Golf Clubhouse with dining
Two Waterfront Community Swimming Pools
Poolside River Club
Six Har-Tru Tennis Courts
Fitness Center
Community Boat Docks and Fishing Pier
Golf Course, Waterfront and Wooded homes, Villas and Town homes
Homes from the low $200K's, home prices average $335K
Lots under $20K
Annual HOA & Island Club Fees $9,184
Optional Monthly Golf Dues $295
Things that make Callwassie Island unique:
Eleven miles of scenic marshland surround the island. At low tide, exposed oyster beds and swaying grasses enhance the views. There is no way on or off the island except through the main gated entrance providing a sense of exclusivity. Property owners are required to become Island Club members (what Real Estate Scorecard classify's as a sports club membership).
Mature pine trees and live oaks beautifully canopy the island. Callawassie Island has been certified as a National Wildlife Federation Community Habit for seven years in row protecting bird life and deer on the island.
Established back in 1981, Callawassie Island completed its $4 million golf course renovation in 2009 giving the course a fresh look and new challenges. Property owners are not required to join the golf club. In addition to golf and tennis clubs, this coastal South Carolina community has a long list of volunteer groups and exciting events bonding the community together. The Friends of Callawassie have raised almost $300K for local charities. Callawassie Island offers affordable home options to those desiring to live in a gated Lowcountry waterfront community with an active Baby Boomer population.
OLDFIELD CLUB
860 acres
Gated Entrance
Approximately 225 homes built of the 547 planned
18 Hole Greg Norman designed Golf Course
20,000 square foot Golf Clubhouse with dining
River Club overlooking the Okatie River
Active Outfitters Center
Oldfield Sports Club & Fitness Center
Resort-style Outdoor Swimming Pool
Six Har-Tru Tennis Courts
Full Service Equestrian Center
Community Boat Dock and Fishing Pier
Six miles Walking Trails
Golf ourse, waterfront and wooded homes, villas
Homes from the high $200K's, home prices average $419K
Lots under $30K
Annual HOA & OCA Club Fees $6,850
Optional Monthly Golf Dues $464
Things that make Oldfield Club unique:
Built in 2000, Crescent Communities created a nostalgic theme for the neighborhood. From the 50's style gas station converted into an ice cream shop and general store at the community's entrance to the American Farmhouse architecture framing out the sports and fitness center. The neighborhood is open and spacious and yet brimming with lush foliage and expansive marsh views.
Homes are clearly newer here reflecting traditional Lowcountry architecture accented by white picket fences. The streets feel much wider and are conducive to bicycling. Approximately two dozen homes are currently under construction in the community's newest neighborhood. New homes start in the $400K's reaching to well over $1 million. Property owners at Oldfield Club are required to become club members. Golf membership is optional.
About Real Estate Scorecard:
Real Estate Scorecard writes unbiased real estate reviews providing in-depth information about popular gated communities in Florida, Georgia, North Carolina, South Carolina and Tennessee, all in an effort to help people discover where to retire in the Southeast.
Website: http://realestatescorecard.com