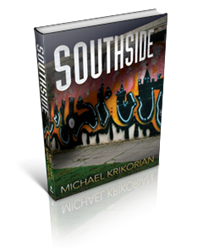 'Krikorian's language is stark, graphic, and bitterly humorous, not unlike that of George Pelecanos...it moves with speed and purpose.' -Publishers Weekly
Longboat Key, Florida (PRWEB) November 05, 2013
SOUTHSIDE by veteran Los Angeles Times reporter, Michael Krikorian is now available nationwide in hardcover (ISBN: 978-1-60809-055-6, List Retail: $26.95, Thriller) and all e-book formats (ISBN: 978-1-60809-056-3, List Retail: $14.95) through better booksellers and public libraries.
Critically praised by Publishers Weekly and Library Journal...
"The debut novel from Krikorian, a Los Angeles Times crime reporter, is a grim thriller that brings a sense of bleak reality to the streets of Los Angeles. Krikorian's language is stark, graphic, and bitterly humorous, not unlike that of George Pelecanos...it moves with speed and purpose."
―Publishers Weekly
"Former Los Angeles Times reporter Krikorian takes his readers on a quick and dirty ride through some of the most dangerous territory in L.A. in this fast-moving debut crime story of revenge and murder. The author knows his territory and isn't afraid to highlight the terrifying reality of gang life as well as the very human stories at its core, without ever resorting to cliché. His sparse style will appeal to readers who like their crime fiction no-nonsense and full of realistic grit."
—Library Journal
Oceanview Publishing offered this synopsis of the story line...
"Disgraced reporter seeks redemption with a vengeance!
When Los Angeles Times gang reporter Michael Lyons is wounded on a downtown sidewalk, his fellow reporters quickly draw up a betting pool on "Who Shot Mike?" He has lots of enemies.
In editorials, the Times blasts the LAPD for not finding the shooter. So when detectives discover an incriminating audio tape and accuse Lyons of conspiring with a gang member, the embarrassed Times fires him.
Disgraced, Lyons sets out with a vengeance to find who shot him. As he negotiates his network of L.A. gangs, Lyons finds a connection between his shooting and others that leads him to an imprisoned notorious gang leader he made famous in a profile. But, who is the serial killer? And who will be the next victim? "
Krikorian's Website: http://www.krikorianwrites.com