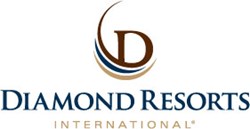 Las Vegas, NV (PRWEB) November 05, 2013
Diamond Resorts International® (Diamond), a global leader in the hospitality and vacation ownership industries, hosted an internal "suit drive" to collect new and gently used business attire to aid women's back to work programs. The suit drive was held at Diamond's corporate headquarters in Las Vegas, NV during the week of October 28, 2013.
As part of a citywide effort in partnership with The United Way of Southern Nevada's Women's Leadership Council, all of Diamond's collected items were then donated to the 6th annual United Way of Southern Nevada Women's Fall Suit Drive which took place on Friday, November 1, 2013. This charitable initiative helps women better prepare for potential job opportunities by providing them with the appropriate business attire they need in order to dress for success.
According to David F. Palmer, President and Chief Executive Officer, Diamond Resorts International®, "We strongly believe in social responsibility and giving back to the local communities in which we live and work. I am very proud of our team members for going above and beyond to participate in this charitable initiative and for becoming involved in a worthy cause. It is our hope that our contribution will lend aid to those who need it most and help our community succeed in the job market."
Diamond Resorts International®, with its network of more than 300 vacation destinations located in 33 countries throughout the continental United States, Hawaii, Canada, Mexico, the Caribbean, South America, Central America, Europe, Asia, Australia and Africa provides guests with choices and flexibility as they design their dream vacation, whether they're traveling an hour away or around the world. Our hassle-free, relaxing vacations give guests a truly memorable experience every time, for a lifetime.
Diamond Resorts International® manages vacation ownership resorts and sells vacation ownership points that provide members and owners with access to 92 managed resorts, 210 affiliated properties and four cruise itineraries through THE Club® at Diamond Resorts International®. To learn more, visit DiamondResorts.com.