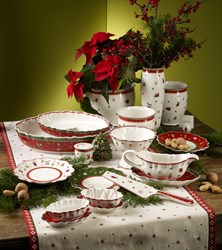 From a snowman to Santa, the classic red and green trimmed collection evokes holiday cheer and makes every gathering special.
New York (PRWEB) November 06, 2013
Villeroy & Boch brings the joy and magic of Christmas to your table with their 2013 Holiday Dinnerware Collections. The high-quality of the products and the variety of collections will delight traditional Christmas dinnerware collectors and fans of modern design alike.
Toy's Fantasy and Toy's Delight are two of Villeroy & Boch's most traditional and festive Christmas dinnerware collections. These Christmas-themed plates, bowls and candy dishes hold timeless appeal and will be handed down to generations to come. From a snowman to Santa, the classic red and green trimmed collection evokes holiday cheer and makes every gathering special. The collection is made from the fine porcelain consumers have come to expect from Villeroy & Boch over the past 265 years. Toy's Delight and Toy's Fantasy Dinnerware is dishwasher and microwave-safe, making it a practical choice for daily use during the holiday season.
The 2013 Naïf Christmas collection, one of Villeroy & Boch's best-selling collections since 1979, recalls a simpler era with folksy designs and is eagerly anticipated by Naïf collectors. This charming dinnerware collection celebrates the season with scenes of rustic village life featuring winter weather, Christmas trees, sleigh rides and a manger. The busy village people and quaint pastoral scenes tell a different story at every sitting. You can mix and match with solid plates and bowls to create your own whimsical holiday tablescape. The Villeroy & Boch Naïf Christmas collection is made of premium porcelain and is dishwasher and microwave safe.
French Garden is one of Villeroy & Boch's most beloved dinnerware patterns and suitable for daily use in any season. The pale yellow and green accents of the best-selling Villeroy & Boch French Garden dinnerware are carried forward into the new French Garden "Noel" Christmas collection. If you are just starting to create a collection of holiday dinnerware or if you are one of the many people that already own Villeroy & Boch's French Garden pattern, you will be inspired to purchase this year's "Noel" pattern.
Known worldwide as a prestige brand, Villeroy & Boch items are perfect for everyday dining as well as casual entertaining. Villeroy & Boch prides itself on its range of premium serving pieces, crystal stemware, teapots, baking and kitchen storage supplies, kitchen accessories, ornaments and other seasonal items. Bring a touch of everyday luxury to your home during the holiday season or create a sophisticated, classically-set holiday table that will never go out of style with the Villeroy & Boch holiday collections.
For more information on the 2013 Villeroy & Boch's Christmas collection and the entire Villeroy & Boch product line, please visit: http://www.villeroy-boch.com/shop/.
***
About Villeroy & Boch
Villeroy & Boch was founded in Germany in 1748 and is one of the world's largest producers of premium porcelain, crafting everything from high-quality dishware to world-renowned sinks, baths and toilets. Hand-blown, quality glassware was added in 1843 to complement the growing diversity of dishware lines. Since its origins over 265 years ago, the ceramics manufacturing company is known for its elegant international lifestyle brand and is represented in 125 countries around the world. The North American headquarters are located in the NY metro area of Monroe Township, N.J.