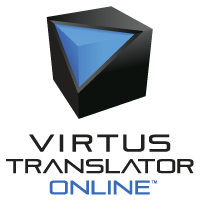 I'm thrilled to be able to offer our customers an affordable online translation solution while keeping both their personal information and data secure. — Jen Doyon, Virtus Product Manager
Herndon, VA (PRWEB) November 05, 2013
Ntrepid Corporation announces the launch of Virtus Translator Online™, a new Internet service providing spreadsheet and database translation in a secure environment. Virtus Translator Online, the web version of Virtus® Desktop, gives freelance translators and translation companies a cost effective and easy way to add structured data translation to their portfolio of services.
Virtus Translator Online was designed to automate and streamline the often monotonous and time-consuming task of translating structured data, the kind found in spreadsheets and databases. Upload a Microsoft Excel or CSV file, and Virtus analyzes and then displays a sample of the translated data. Virtus automatically detects the file's delimiter character and encoding scheme and determines whether the file contains a header row. Column-by-column, Virtus also identifies the language and data category, with per column controls for adjustments. Once the user is satisfied with the translation preview, Virtus translates the file for just a penny per cell.
"I'm thrilled to be able to offer our customers an affordable online translation solution while keeping both their personal information and data secure," said Jen Doyon, Virtus Product Manager. "It's exciting to be able to bring this kind of technology to the translation industry."
Virtus Translator Online can convert your Arabic, Chinese, French, German, Persian, Russian, or Spanish spreadsheets and databases into English, with more languages planned for 2014.
Check us out at http://www.virtustranslator.com or at the upcoming 54th American Translators Association Annual Conference, November 6-9, 2013 in San Antonio, Texas. Visit Booth 22 for a demo.
About Ntrepid Corporation
Ntrepid Corporation leverages industry experience and engineering talent to develop technologies that solve operational challenges in the areas of Internet operations, information management, analytics, linguistics, and tracking.
Additional product information can be found at ntrepidcorp.com/virtus.