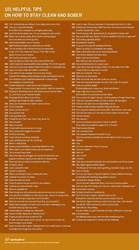 Call toll-free for Treatment Help: 1 (888) 724-3186.
Delray Beach, FL (PRWEB) November 05, 2013
Spiritual River, drug and alcohol addiction recovery website, is proud to announce the re-release of its infographic "101 Helpful Tips on How to Stay Clean and Sober" now available on http://www.spiritualriver.com. The bold, vibrant background of the re-styled infographic and meticulous organization of its content are emblematic of positive recovery. This comprehensive list highlights important aspects of recovery that, when implemented, could make a huge difference in the process of living a healthier lifestyle.
More often than not, recovering addicts take the necessary steps towards sobriety, but do not acquire the motivation needed to move forward and stay clean, which risks the possibility of leading to laziness and eventual relapse. This list, created by Spiritual River columnist Patrick Meninga, offers a variety of approaches that have the potential to fulfill personal growth and/or value. For instance, #35-Going back to school can enhance an individual's personal and professional morale as going back to school equates with increased knowledge and working towards career aspirations. Additionally, #58-Be grateful for existence, while abstract, can help with looking introspectively and practicing positive thinking, which makes for a great long-term goal that can be constantly worked on.
Meninga urges diligence and action with regards to recovery. The atips he lists in this infographic serve as a foundation towards creating and sticking with hobbies and activities that eventually become long-term commitments for maintaining sobriety and overall healthier living. This infographic is part of Meninga's overall viewpoint of "taking massive action" in recovery and turning away from the bottle or drug that has once governed life. In his infographic, Meninga encourages individuals who are looking for ways to take control of their recovery and make significant changes that could impact life for the better.
Based in Delray Beach Florida, Spiritual River aims to help individuals through the process of seeking or maintaining recovery through helpful advice in the form of blogs, infographics, and ebooks. Spiritual River understands that taking the journey to beat addiction and achieve ultimate recovery is highly personal and may be considerably bumpy, however definitely possible. Spiritual River encourages constant hard work and fulfilling positive goals for "massive action."
To view this infographic, please visit http://www.spiritualriver.com/101-helpful-tips-on-how-to-stay-clean-and-sober/.