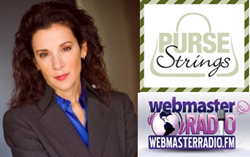 Minneapolis, MN (PRWEB) November 05, 2013
Close your eyes and imagine the following: Matriarch. Sex goddess. Mother. Crime victim. The images that flitted across your mind are the ones perpetuated by media. Women in film and television play these "roles," but what messages are these images sending to our young people about who women are and what they can accomplish?
This heady question about the state of gender politics is just one that PurseStrings will tackle on Tuesday, November 5 at 3 p.m. Eastern time during its live weekly show. Host Maria Reitan will interview Madeline Di Nonno, executive director of the Geena Davis Institute on Gender in Media and its programming arm, See Jane.
The Geena Davis Institute on Gender in Media was established in 2004 by the Academy Award-winning actress. Davis, at that time the mother to a pre-school daughter, noticed the absence of female characters in children's entertainment. This sparked the largest research project on gender in film and television ever undertaken.
With Di Nonno's leadership, the Institute has established itself as the leading resource concerning gender prevalence in family entertainment. In conjunction with the University of Southern California, the Institute has also produced more than 18 groundbreaking research studies that reveal the longstanding epidemic of gender inequality and stereotyping of women in film and television.
Di Nonno has worked in media and marketing for 30 years and is using her knowledge and experience to dramatically improve female portrayals and representation in entertainment targeting children 11-years-old and younger. On Tuesday she will be discussing how women are displayed in media and film as well as research that spotlights gender inequality and stereotyping.
About PurseStrings
PurseStrings features insight from leading marketing executives on how companies can capture the attention of the country's most coveted demographic – the 51 percent of the world who controls more than 80 percent of the household spending: the woman. Host Maria Reitan is the Senior Principal of Carmichael Lynch Spong. As chair of the Carmichael Lynch Spong Lifestyle Marketing and Marketing to Women Special Services Group, Maria lends her expertise on this key demographic target.
New episodes of PurseStrings air Tuesdays at 3PM Eastern / Noon Pacific on WebmasterRadio.FM or on demand in the WebmasterRadio.FM archives inside the Internet Marketing Channel or through iTunes, Stitcher, Zune Marketplace and the WebmasterRadio.FM Mobile Application for iOS and Android Smartphone devices.
About WebmasterRadio.FM
WebmasterRadio.FM lifts the "veiled curtain" of the Internet, bringing the business community together through an interactive radio network. Its listeners are a global group, comprised of everyone from corporate executives and decision makers to small and mid-sized businesses and individual entrepreneurs. WebmasterRadio.FM's stellar line-up of radio programming includes; "Market Edge" with W2 Group Owner and Chairman Larry Weber, "Purse Strings" with Carmichael Lynch Spong senior principal Maria Reitan and the "CyberLaw and Business Report with Internet Law Center Founder Bennet Kelley.
To tune into WebmasterRadio.FM's live content or check out the show lineup, please visit http://www.WebmasterRadio.FM. All WebmasterRadio.FM programs are available in podcast format through all major podcast portals (including iTunes, TuneIn, Stitcher and Zune Marketplace), as well in archived format on-demand through our proprietary mobile application for iOS and Android smartphone devices.
About Carmichael Lynch Spong
Carmichael Lynch Spong is one of the most decorated public relations firms in the world. The firm was named "Creative Agency of the Year" in 2013 by The Holmes Report and is a four-time recipient of the "PR Agency of the Year" award by national trade journals PRWeek, PR News and The Holmes Report. The firm represents a select portfolio of envied brands with staff in Minneapolis and New York. Carmichael Lynch Spong is a division of Carmichael Lynch Inc., which is owned by the Interpublic Group of Companies Inc. New York. Visit http://www.carmichaellynchspong.com for more information.
For further information:
Sarah Tillou
Carmichael Lynch Spong
612-375-8563
sarah(dot)tillou(at)clynch(dot)com