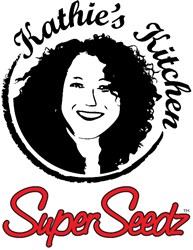 North Haven, CT (PRWEB) November 06, 2013
Kathie's Kitchen announced today that United Natural Foods West (UNFI), Nature's Best, Lassen's, Mother's Market and New Frontiers are now distributing America's tastiest new healthy snack SuperSeedz. Kathie's Kitchen produces a full line of SuperSeedz premium dry roasted shelled pumpkin seeds and perfects them into a powerful nutritional snack that is Gluten-Free, Peanut-Free, Tree Nut-Free, Soy-Free, Dairy-Free, Vegan, MSG-Free and Non-GMO.
Pumpkin seeds might be small, but their nutrition content is huge. They are a plant-based protein powerhouse with approximately 9 grams per 1-ounce serving. In addition, they are high in zinc, magnesium and a good source of iron. More importantly, SuperSeedz is packed with all of this nutrition without sacrificing on taste.
"We are really excited to be working with such industry leading distributors like Nature's Best, and UNFI, while giving health conscious consumers access to SuperSeedz in their backyards. Lassen's, Mother's Market, and New Frontiers are all great retailers that share a similar mission—to provide consumers with healthy great tasting food choices," stated Joe Pelliccio, President of Kathie's Kitchen.
SuperSeedz branded premium pumpkin seeds are available in 5 oz. bags and come in the following eight delicious flavors:
Sea Salt - Just the right amount of crunch with a light unrefined Sea Salt seasoning added. Not too salty and great tasting - this SuperSeedz is taking America by storm.
Coco Joe - Just the right combination of high end French cocoa, vanilla, sea salt and a hint of coffee to satisfy all chocolate lovers. This is a guilt-free snack that is surprisingly low in sugar and big in chocolate taste.
Really Naked - A true testament to the great flavor of dry roasted and shelled SuperSeedz without seasoning of any kind. Completely sodium-free.
Somewhat Spicy - Cayenne, garlic and sea salt all combined to bring a truly addictive savory snack.
Super Spicy - An intense habanero flavor with a black pepper surprise ending. Just the right amount of kick without too much heat. This is a fun flavor that will satisfy every heat seeker.
Original Curry - A great mild and subtle curry blend that is not overpowering, yet memorable. Great out of the bag or on salads or in soups. Original Curry SuperSeedz is the only flavor that is not Soy-Free.
Sugar and Cinnamon - Truly exceptional taste with just the right amount of sweetness and all the benefits of cinnamon.
Tomato Italiano - Bruchetta on a pumpkin seed. Tomato, basil, garlic, sea salt, pepper and a hint of onion combined to bring a great big flavor on little pumpkin seeds. Try some and think pizza.
"We are continually adding top-flight distributors and retailers in our efforts to build a strong national distribution network and product footprint for SuperSeedz. Both retailers and distributors have been very supportive of SuperSeedz and feel consumers are eager for a superior tasting healthy snack," added Pelliccio.
SuperSeedz branded line of premium pumpkin seeds are also distributed by UNFI East, KeHE, Davidson, Bozzutos and Carmela and can be found in such fine retailers as Whole Foods, Big Y, Shoprite, Shaw's, Dave's Market, Stop & Shop, Fairway Market Stores, Whole Food Markets in Southern California and Arizona, Stew Leonard's, Akins, Caputo's, Bristol Farms, Gelson's Supermarkets and Independent Stores.
About Us:
Kathie's Kitchen, LLC is located in North Haven, Connecticut and produces SuperSeedz®, a branded line of premium dry roasted no shell pumpkin seeds that provide consumers with a "Healthy Snack" alternative. SuperSeedz products are Gluten Free, Peanut Free, Tree Nut Free, Soy Free, Dairy Free, Vegan, MSG Free AND Non-GMO. SuperSeedz is available in eight delicious flavors including: Sea Salt, Super Spicy, Somewhat Spicy, Tomato Italiano, Original Curry, Coco Joe, Sugar & Cinnamon and Really Naked. SuperSeedz products come in 5 ounce bags and 1 ounce sizes and can be found in Natural Food Stores and Grocery stores around the country. For more information about SuperSeedz, contact Joe Pelliccio, President at 203-407-0546 or e-mail him at joe(at)superseedz(dot)com.