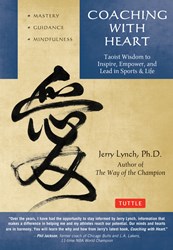 The relationship game is the single most vital aspect to successful and effective coaching in sports.
New Clarendon, VT (PRWEB) November 04, 2013
On December 10th, Tuttle Publishing releases the much-anticipated follow up to "Way of the Champion," "Coaching With Heart: Taoist Wisdom to Inspire, Empower, and Lead in Sports & Life." The book is written by Jerry Lynch, PhD, one of America's most esteemed sport psychologists. As a follow-up to the Phil Jackson-endorsed, "Way of the Champion," Jerry Lynch's latest book explores the ways Taoism, Buddhism and Native American philosophy inform a winning strategy in sports.
Whereas "Way of the Champion" focused on the aspects at play in nurturing a successful athlete, "Coaching With Heart" expounds upon valuable lessons for coaches and leaders in sport. In the world of athletics, an innovative breed of coaches is emerging—men and women who insist on fostering strong, healthy relationships with their players where respect and integrity are forged.
"Coaching With Heart" is a provocative and practical game changer in the shifting landscape of athletics and life coaching. Readers are invited to awaken to established techniques that empower and inspire not only themselves, but also the players with whom they are building a relationship. Chapters discuss various themes, including the power of caring in HAVING LOVE IN YOUR HEART, to the magic of being stronger by being softer in SOFTER EFFORT, STRONG RESULT, to the positive effects of a culture of unity and cohesion in CULTURE OF WE NOT ME. Tao Coaching, where the Taoist virtues of respect, trust, compassion, belief, and integrity are also discussed.
Dr. Lynch shares wisdom he has accrued in his more than thirty years 'in the trenches', where he has had the opportunity to work with some of the most respected and effective coaches of all time, such as Phil Jackson, Tara Vanderveer, Anson Dorrance, Cindy Timchal, Missy Foote, and many more. "Coaching With Heart" assists readers in stepping outside the box with leadership endeavors whether as a coach, teacher, CEO, military officer, or parent, and implement Zen Coaching approaches to guide others to practice, play, and live with the heart of a champion.
Dr. Lynch has been a sports psychology consultant for the past 33 years to over 25 international and national championship teams at the professional and NCAA collegiate levels. In one survey, he has been recognized as one of the top five in his profession nationwide. He has been the keynote speaker for Nike events and featured in O Magazine. Dr. Lynch is the former Sports Psychologist for men's and women's Basketball, Lacrosse, and Soccer teams at the universities of North Carolina, Duke, Maryland, California, and Stanford and continues to work with several teams nationally. He has been involved with athletes at the Olympic Training Center in Colorado, helping them to perform up to their potential. Several of his clients have participated in various summer and winter Olympic Games. Aside from sports, Dr. Lynch has worked with performing artists and corporate executives. He is the author of several books including "The Way of the Champion," "Spirit of the Dancing Warrior," and "Creative Coaching."
To pre-order "Coaching With Heart," visit the book's Amazon page.
About Tuttle Publishing
Established in 1948 by Charles Egbert Tuttle Jr. in Rutland, Vermont and Tokyo, Japan, Tuttle Publishing is the premier publisher of English language books on Asian culture. Today, Tuttle maintains an active offering of books on a wide range of topics, including Asian culture, Asian literature, Asian architecture, Eastern spirituality, gardening, cooking, martial arts, crafts, travel, health and wellness, and fine art for a worldwide audience.