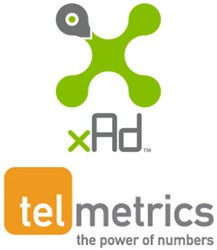 Generating a 60-40 offline-online conversion split, insurance is a true multi-media engagement category that requires insurance marketers to meet a range of consumers' search and conversion needs.
New York and Toronto (PRWEB) November 05, 2013
Mobile is becoming an important insurance research tool with 40 percent of online insurance research time now being spent on mobile devices, according to new findings released today from the xAd/Telmetrics Mobile Path-to-Purchase Study, conducted by Nielsen. While 60 percent of insurance researchers are still using PCs in their purchase decision, half of mobile searchers say they use a mobile device to kick off the insurance research process and mobile is present in all stages of the path to purchase. Ultimately, 1 out of 4 mobile insurance searches result in a conversion, 60 percent of which are happening offline, including 43 percent via calls. Searches for Auto, Home and Health Insurance are most popular.
xAd/Telmetrics Mobile Path-to-Purchase Insurance Infographic
Contact Info Important as Most Conversions Made Via Calls
With phone calls being the top way mobile insurance searchers convert, 1 out of 4 say the most important search feature is easy-to-find contact info. Local agents and national brands continue to play an active role in consumers' insurance decisions, and there is a nearly equal division of how mobile consumers are completing their call-based purchases. Almost 25 percent of mobile purchases are made via calls to local insurance agents and 21 percent convert through calls to insurance providers' toll-free numbers. Additionally, 2 out of 5 researchers report looking for a local insurance location within 5 miles.
"Generating a 60-40 offline-online conversion split, insurance is a true multi-media engagement category that requires insurance marketers to meet a range of consumers' search and conversion needs," said Bill Dinan, president of Telmetrics. "To aid mobile-driven conversions via calls, mobile insurance campaigns should prominently feature phone numbers and local agent office information for consumers to easily connect and make a purchase."
Long Insurance Research Process with Mobile Involved at Every Stage
Insurance is a research heavy category with nearly half of mobile insurance users taking a month or longer to make a purchase and less than a quarter of insurance purchases happening within the day. The longer decision cycle – in which 25 percent of insurance searchers use their mobile devices exclusively – includes more mobile searching at home. In fact, 2/3 of mobile insurance research is conducted at home with 44 percent looking up account info and 35 percent comparing prices. The majority (80 percent) of mobile insurance consumers search for Auto Insurance, followed by 38 percent for Home Insurance and 22 percent for Health Insurance.
"The insurance category has a long consideration process and mobile is involved in every stage. This means that marketers have an opportunity to reach consumers at various touch points to raise brand awareness and ultimately influence purchase decisions," said Monica Ho, vice president of marketing at xAd. "Marketers can improve and impact the search experience through mobile optimized sites and pricing tools."
Optimized Mobile Sites Key to Insurance Conversions
With the majority of mobile insurance searchers (84 percent) looking for information, tools that create a seamless mobile experience, including mobile optimized sites and access to contact info, can help lead to conversions. While fit and price ultimately drive insurance purchases, looking up current account details, price comparisons and new policy information are the top ways mobile insurance content is used.
About the Study
The behavioral data is part of a greater study, which is the first to measure what consumers report they are doing via mobile devices and capture their actual preferences and behaviors across the Retail, Gas & Convenience, Banking & Finance and Insurance categories. Results from the 2nd Annual U.S. Mobile Path-to-Purchase Study are based on data from an online survey of 2,000 U.S. smartphone and tablet users and actual observed consumer behaviors from Nielsen's Smartphone Analytics Panel of 6,000 Apple and Android users.
More details are available at mobilepathtopurchase.com.
About xAd
Founded in 2009, xAd is one of the largest mobile advertising platforms in the U.S. and the leader in delivering targeted mobile ads based on accurate user location and search context. Across its network, the company aggregates and manages billions of monthly ad impressions from which it derives the largest supply of location-based advertising inventory in the market. xAd delivers targeted mobile location@scale for over a million national and local advertisers, including brands like Pinkberry, Home Depot and Wells Fargo. xAd is based in New York City with several satellite offices across the U.S. and internationally. For more information, visit http://www.xAd.com.
About Telmetrics, Inc.
For more than 20 years, Telmetrics has been the call measurement industry leader. Telmetrics' call tracking solutions, which are available in North America and across Europe, track the lead generation quality of local search advertising and pay per call programs for the leading brands in local search. This includes both publishers and agencies that serve millions of SMBs and national franchise locations across North America and Europe. With greater visibility into advertising performance across all media channels—digital, mobile, print and more—media publishers, agencies and advertisers can optimize the media mix for higher quality lead generation, resulting in increased revenues and a more complete picture of ROI across converging media. For more information, visit http://www.Telmetrics.com.
# # #