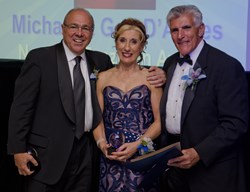 Perth Amboy, NJ (PRWEB) November 06, 2013
More than 400 event tickets were sold and $360,000 was raised for Raritan Bay Medical Center (RBMC) at the 2013 Harbor Lights Ball, presented by Landmark Healthcare Facilities at The Addison Park in Aberdeen, NJ. The Ball is Raritan Bay Medical Center Foundation's largest fundraising event of the year for the medical center. This year's proceeds exceeded 2012 by $80,000 and benefit RBMC.
"We attribute this year's tremendous success to our honorees and volunteers who worked hard to bring in donations, and to our presenting sponsor Landmark Healthcare Facilities. Many new faces in the community joined us this year to honor our five award recipients," said Nancy Barone, executive vice president, RBMC Foundation. As in past years, the Harbor Lights Ball was staffed by medical center employees and volunteers from the community who graciously donate their time to help make the night a success annually.
This year's honorees were RBMC's President and CEO and his wife, Michael and Geri D'Agnes, who received the Norman Tanzman Award; RBMC's Board Chairman, Joseph J. Jankowski, Esq.; who received the Humanitarian Award, Chairman of the Department of Radiology Dr. Stephen Warren, who received the Excellence in Healthcare Award; RBMC's longstanding partner in delivering care, Sodexo Health Care, was named as Business of the Year; and chair of the Future Leaders Association at RBMC Kurt Rebovich, Jr. who received the Future Leader Award.