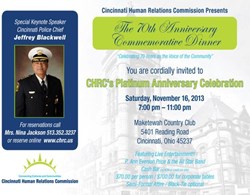 We only have 200 seats available for t his event and anticipate that it will sell out, so please do not delay!
Cincinnati, OH (PRWEB) November 06, 2013
Chief Jeffrey Blackwell is the event's keynote speaker and P. Ann Everson Price & the All Star Band will have everyone dancing!  Tickets are $70/person and can be purchased 2 ways:
1. By going to our website (http://www.chrc.us), printing off and mailing in/dropping off the registration form. All forms are due by November 11, 2013.
2. By going to https://www.eventbrite.com/event/8857758795.
On November 17, 1943, the Mayor's Friendly Relations Committee was created by resolution of Cincinnati City Council. The Committee was the second group of its type established in the US. On March 17, 1965, the City Council adopted Ordinance 112-1965 providing for the establishment of the Cincinnati Human Relations Commission (CHRC). Since 1943, the agency has remained steadfast in its efforts to help our community to overcome prejudice and discrimination, build mutual respect and understanding, and become more harmonious and cohesive.
Proceeds from this event will be used to support the agency's Community Outreach and Engagement efforts. CHRC has been charged with listening to and working with the community to overcome prejudice and discrimination and build mutual respect and understanding. By bringing individuals and groups together for dialogue and sharing cultural experiences, we can have an impact.