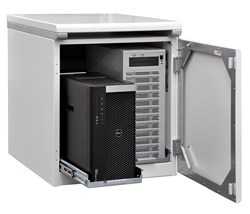 Granite is attentive to the healthcare OEMs' stringent requirements.
Milwaukee, WI (PRWEB) November 05, 2013
Granite MEDSystems (Granite), a global healthcare design and manufacturing firm, and Dell OEM Solutions today announced a partnership, which will significantly benefit global healthcare OEMs. Healthcare OEMs can now access a single source to leverage the global benefits of Dell's full range of hardware, and Granite's high-mix, low-volume design and manufacture of capital medical equipment with extended lifecycles and highly controlled change processes.
"We are now able to offer customers an even broader spectrum of compute products and services as a result of our partnership with Dell OEM Solutions," said Clint Hanson, vice president of operations, Granite MEDSystems. "Granite is attentive to the healthcare OEMs' stringent requirements. We have some of the industry's highest standards of quality and device history records management. We are pleased to be able to now directly access Dell's hardware, pricing and global logistics."
"We're pleased to have Granite join the partner program as an OEM Channel Partner," said Ron Pugh, executive director and general manager, Dell Americas OEM Solutions. "This partnership enables Dell to tap into Granite's expertise in the healthcare industry while further extending our hardware and services into the industry's requirements for controls and record keeping. Granite's design and manufacturing processes have been built specifically for healthcare. Its process controls are world class."
The Dell OEM Solutions partnership provides healthcare OEMs with more value-added services from a single source, including: combined COTS and custom hardware and software integration; final assembly and test; inventory management; consolidation and shipping; custom support engagements; and global supply chain solutions.
About Granite MEDSystems
Granite MEDSystems is a global provider of complete, turnkey electro-mechanical assemblies for healthcare OEMs. Its areas of expertise include: the design and contract manufacture of mechanical assemblies; computing solutions; and electronic circuit design with controlled lifecycles. For over 25 years, Granite has been a trusted partner of many of the world's largest tier-one healthcare OEMs. http://www.GraniteMED.com
About Dell
Dell Inc. listens to customers and delivers innovative technology and services that give them the power to do more. For more information, visit http://www.dell.com. Dell OEM Solutions helps its customers find more balance between execution and innovation with dedicated OEM resources, industry-standard hardware and global services and support capabilities. Dell helps its OEM customers improve their time to revenue and run their operations more efficiently for increased competitive edge. Learn more at http://www.dell.com/oem.