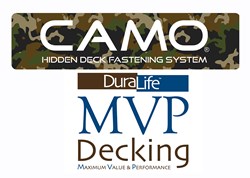 "The CAMO Hidden Deck Fastening System provides the added value and aesthetic quality of a hidden fastening system without the added cost of a special hidden fastener clip." - Jim Poulin, DuraLife
Grand Rapids, MI (PRWEB) November 06, 2013
National Nail Corp. is proud to announce its CAMO® Hidden Deck Fastening System is now approved for use with DuraLife MVP (Maximum Value & Performance) composite decking.
"We are glad to be one of the recommended hidden fastening systems for DuraLife's ultra-low maintenance MVP Decking, and look forward to growing our relationship with DuraLife," said Greg Groenhout, CAMO Product Manager at National Nail Corp. "CAMO Hidden and MVP Decking are both outstanding products that when combined give customers a quality, great-looking end product at an affordable price."
Integrity Composites, LLC is a New England based manufacturer of composite decking, railing, and dock planks that are sold under the DuraLife™ brand. DuraLife™ decking is a unique capped composite product in that it is manufactured from a polypropylene & hardwood material that is highly resistant to everyday stains, fade, and wear. The company operates a 120,000 square foot manufacturing and warehouse facility in Biddeford, Maine and its products are sold throughout the U.S. and internationally.
"Our DuraLife MVP Decking is designed specifically for the value conscious homeowner who is looking for a high performance composite deck board at an affordable price," noted Jim Poulin, the National Sales Manager for DuraLife. "The CAMO Hidden Deck Fastening System provides the added value and aesthetic quality of a hidden fastening system without the added cost of a special hidden fastener clip."
The CAMO Hidden Deck Fastening System is a versatile, affordable, easy-to-install hidden deck fastening system designed for both professional deckbuilders and homeowners. CAMO Hidden Fasteners and Marksman tools combine to deliver a beautiful, fastener-free deck surface in treated, cedar, hardwood and solid or grooved composite and PVC decking. The patented system includes Hidden Fasteners, Marksman® tools and Driver Bits. Together, they enable fasteners to penetrate the side of the deckboard, allowing screws to be hidden and securing deckboards directly to the joist.
For more information, please visit http://www.camofasteners.com. To view the DuraLife Decking Installation Instructions click here or visit duralifedecking.com.
National Nail Corp., headquartered in Grand Rapids, Mich., is an employee-owned manufacturer and distributor of high quality, innovative building products and service solutions for the residential and commercial construction industries. National Nail brands include Pro-Fit® Fasteners, STINGER® Cap Systems and Impressions Storm Doors and Windows.