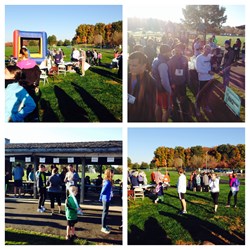 Doylestown, PA (PRWEB) November 05, 2013
On Saturday, October 26th at 9:00am, over 200 people showed up at Central Park in Doylestown, PA. What would cause that many people to wake up early on a Saturday? The 2nd annual "Race Against Poverty 5k" that Poverty Resolutions held. Each person there contributed towards a great and necessary cause—ending poverty around the world. What is Poverty Resolutions and what they do? Poverty Resolutions, is a non-profit organization that is based out of Doylestown, PA and the heart of their organization is to eliminate poverty around the world. They had spent twenty-days days, back in 2010, living in a tent city in Haiti on one dollar a day, trying to get a deeper understanding of what living in poverty was like. They were blown away by what they saw, what they experienced, and the emotions they felt. Since then, their goal has been to change Haiti and to eventually change the world. The main way they do this is through raising awareness and raising support.
Their annual 5k race is an event that raises awareness and support. Each runner or walker pays to race, which helps fund projects that Poverty Resolutions does in Haiti each year. Getting the word out about this 5k helps to spread awareness about poverty in Haiti and what people can do to make a difference. The turnout for their 2nd annual 5k race was incredible! There were over 200 people there, with at least thirty volunteers. Over fifty children showed up and enjoyed the moon bounce, face painting, and t-shirt dyeing that were provided. The fastest runner of the 5k event was Rob Sheely, who completed the race in 18 minutes and 45 seconds. The 2nd annual 5k race was a huge success for Poverty Resolutions, and they are already looking forward to hosting this event again next year.
Check out the Poverty Resolutions website on a continual basis to see what events and activities they have coming up throughout the year. Sign up to be on their monthly mailing list to keep up to date on what we are accomplishing down in Haiti. Follow them on Facebook, Twitter, and YouTube for more information as well. Consider donating today to help make a difference in Haiti.
Poverty Resolutions is a 501(c)(3) non-profit organization dedicated to the eradication of poverty around the world. They aim to educate others in order to increase awareness of global poverty and to also inspire people to take action. In Haiti, they provide sustainable solutions to poverty, which empower individuals and organizations to meet the needs of their communities.
Poverty Resolutions is based out of Doylestown, PA.
To learn more, visit: http://www.povertyresolutions.org.