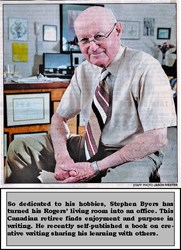 He preaches a technique that imagines a story and its characters before delving into the writing details.
Rogers, AR (PRWEB) November 12, 2013
On October 17, The Profiles Page by Northwest Arkansas Media published in the Arkansas Democrat-Gazette featured an article on Stephen P. Byers reporting on the activities of this unusual octogenarian. It begins with this statement: "Stephen Byers of Rogers might not have done it all, but he's come close."
After serving in the Canadian Army, his engineering career began in Canada, working his way up the ladder of success in construction management on a variety of multi-million dollar projects. In 1972, he moved to Kansas City where he continued in construction management for 16 years. During their years in KC, he and his wife, Elspeth, found time to become deeply involved in acting, directing and costuming at a variety of local community theaters. After retirement, Byers developed a close association with the Shiloh Museum of Ozark History in storytelling, script writing, and acting and directing living history performances, culminating as the director of the 100th anniversary of William Jennings Bryan's visit to Springdale, Arkansas. In 1999, the Arkansas Museums Association rewarded him with the prestigious "Friend of the Museum" Award, which was followed in December 1999 by Governor Mike Huckabee's "Volunteer Excellence Award in recognition of outstanding volunteer service to the people of Arkansas."
While enjoying his association with the Shiloh Museum, Byers expanded his voyage into the arts with a new career in creative writing. In his search for ever more stimulating endeavors, he discovered, entirely by happenstance, his talent for teaching. A local public library asked him to lecture on his personal how, why and when of writing. Over time, this lead to a four-hour seminar he delivered free of charge at public libraries throughout his four-state area. In 2002, Byers received an astonishing letter from a published author who wrote Byers' presentation "was by far the best I have ever heard." Regrettably, the seminars came to a sudden halt with the onset of colon cancer, since in remission.
Byers has written eight books: five novels and three books on creative writing, two of which were taken out of print in favor of his last work titled "Beginning Creative Writing; A Learning Experience" designed to guide young and old beginners alike. He preaches a technique that imagines a story and its characters before delving into the writing details. The development of his approach spans ten years that included weekly articles first published in the Gravette News-Herald from September 2004 to 2006, and subsequently published by Jay Johnson of Tampa, Florida on Banyon Publishing's website under the title "The Book Doctor" that continue to be available on that site to this day, free of charge.
The NWA article states Byers began writing at the age of 74. Five of his books are novels. "The Naked Jaybird," imagines a foreign power seeking to destroy America through pollution of the environment; "Bent Coin" is the story of a family subject to genetic recombination in which the traits of an ancestor may jump several generations before reappearing, a phenomena called atavism; "Lost River Bridge," is the tale of the degeneration of an Ozark community; "Goad of Honor," centers on the prohibition years; and finally "A Boy and His Horse" is a heartfelt story for young adults about an America boy's experiences before and after the Civil War. Byers' books are available for purchase on his website and from Amazon in both paperback and Kindle ebook format.
Following a heart attack in 2011, Byers limits his writing to a weekly blog called Short-Shorts that present literary sketches depicting a slice of life in 500 words or less. Each article is titled with the first name of the lead character. Asked why he writes these sketches, Byers answers, "because they represent a challenge in creative writing, require careful composition and descriptive word choice—the fundamental challenge of creative writing that I thoroughly enjoy." Byers' self-designed website providing background details of all his work can be found at http://www.booksbybyers.us.