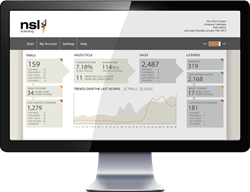 Now Software CEO's will be able to outsource non-core licensing functions and drive revenue growth from more maintenance renewals, new business models and easy migration to Nalpeiron
Palo Alto, CA (PRWEB) November 06, 2013
Nalpeiron releases V10 of its Hosted Licensing Management Platform designed to reduce the in-house burden of Software Licensing – allowing Software Developers to easily move to the private, US-based, Nalpeiron Licensing Cloud – saving money and driving new revenue opportunities.
Click for a Nalpeiron Software Licensing Fully Functional 30 Day Trial
Nalpeiron V10 is different to traditional licensing instead of being a one-way street for data it now has a "two-way" licensing model built-in. Now Software Developers can easily control the client rights from the Nalpeiron Licensing Cloud. Quickly enable subscription business models, automatically switch on/off features, control maintenance renewals and do some very powerful things with licensing they never could before today.
Watch a Summary Video About the Software Analytics and Software Licensing Service
Nalpeiron is easy and fast to implement for Windows, Mac, Java and Linux Developers right "out of the box". Developers simply add the small Nalpeiron library and they are ready to offer secure trials and deploy to users within 30 minutes using their usual tools or IDE. Encrypted data is stored in the Nalpeiron US-based private cloud with the industry's only SLA & Uptime Guarantee.
Another new feature for Software Developers is the ability to target engineering by understanding the user's hardware and system configuration. To track users, across products, features, usage, adoption, location, platform and many more parameters – all with a few clicks.
Finally, Nalpeiron V10 allows Developers to control environments like VMs and OS sandboxes that are a "killer" to standard licensing technology due to their need to get under the hood of the OS and interact with the hardware directly. Nalpeiron has designed its latest generation node-locked technology to deal with these issues and work with VMs without the hassles of older style license management products.
More about the Software Licensing Management and Software Analytics Service here
About Nalpeiron
Nalpeiron was founded over 20 years ago in 1991. Nalpeiron Inc. is a leader in the Software Analytics and Software License Management business, with millions of consumer users and thousands of enterprise customers who rely on Nalpeiron every day.