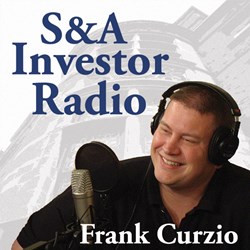 This boom is a game changer for America. - Frank Curzio
Baltimore, MD (PRWEB) November 05, 2013
S&A Investor Radio hosted Brian Sullivan, business journalist and co-Host of CNBC's Street signs to discuss the benefits and risks behind America's energy boom. Curzio declares Brian Sullivan "one of the best interviews S&A Investor Radio has ever produced." Sullivan refers to his recent trips to major shale areas such as Bakken in North Dakota and Permian Basin in Texas to explain oil prices and the future of America's energy independence. Curzio describes this trend as "a game changer for America." Curzio and Sullivan also reveal a risk "that could stop this trend in its tracks."
A "fantastic interview you don't want to miss."
You can listen to the entire episode here.
Listen to a new episode of S&A Investor Radio every Thursday afternoon at http://www.stansberryradio.com. Tune in and find out why S&A Investor Radio is becoming one of the most widely followed podcasts in the country.
Brian Sullivan is co-anchor of CNBC's "Street Signs " (Mondays-Friday, 2 p.m.-3 p.m. ET). He joined CNBC in May 2011 and is based at the network's Global Headquarters in Englewood Cliffs, N.J.
Sullivan has more than 15 years of financial broadcasting experience, having served as an anchor at Fox Business Network and prior to that as producer, reporter and anchor at Bloomberg Television.
He is recognized as one of the first financial journalists to highlight the risks of the housing bubble and his 2007 special "Subprime Shockwaves" won the NY CPA Society Excellence in Financial Journalism award and was nominated for the prestigious Gerald Loeb Award.
Prior to joining Bloomberg in 1997, Sullivan traded chemical commodities for Mitsubishi International.
Sullivan has a B.A. in political science from Virginia Tech, a law degree from Brooklyn Law School and is an avid auto racer.
Frank Curzio is one of America's most recognized experts in the small cap sector. He is the voice behind S&A Investor Radio, as well as the editor of S&A's Small Stock Specialist, and the exclusive emerging technology micro-cap advisory, Phase 1 Investor.
Before joining Stansberry, Frank lived and worked in New York City writing for TheStreet.com. He is still mentioned numerous times on Jim Cramer's Mad Money, and has been a guest on Fox Business News, Stansberry Radio, and CNBC's The Kudlow Report and The Call.