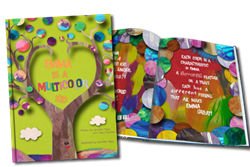 "I believe that it is extremely important for children to understand how and why people are different, which in turn, allows them to grow into better adults." -Margo Redfern, CEO Flattenme.com
Los Gatos, CA (PRWEB) November 04, 2013
As children grow up, one of the most famous questions that a parent will be asked is 'why'? The older children get, the more inquisitive they become and many want to know all about their characteristics and why they have them.
'The Multicolor Kid' is the latest fabulous personalized addition to Flattenme.com, acting as yet another education tool in order to teach children, while providing a super fun experience at the same time.
The book helps to teach children about all of their different characteristics that make them different, using an innovative and eye catching color coded system, aiding in easy understanding.
Completely personalized and featuring the child's name throughout, the book is a hands-on way of getting children's attention and then, more importantly, keeping it.
The story is beautifully illustrated and written by Caity Redfern and Jennifer Hess, who is also the author of 'ABC 123' and 'Sillybug'. Jennifer combines her breathtaking artistic skills and with her vast knowledge of Art Therapy Counseling, as well as her understanding of Elementary Education, and manages to create an equally stimulating and educational book. After having children herself, Jennifer decided to start creating personalized books in order to teach them skills, as well as boost their self esteem, and knows from experience that they help to do both. This is Caity Redfern's first printed book, having made the leap from online writing forums to the printed page.
An ideal gift for birthdays or the holidays, the book will become a cute keepsake when the child no longer needs to use it.
Flattenme CEO Margo Redfern said: "We are so excited about our next new personalized book.
"We have worked with Jennifer for a while and her work is just stunning, she knows exactly how to deliver a message to children in a way that is easy to understand and fun. We also love breaking new writers such as Caity Redfern into to the children's book publishing world to keep things fresh."
"I believe that it is extremely important for children to understand how and why people are different, which in turn, allows them to grow into better adults."