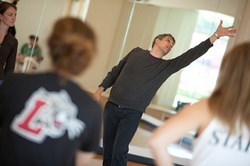 We all have the need and desire to move. You don't have to be a professional dancer to be engaged in dance.
Easton, PA (PRWEB) November 14, 2013
Lafayette College is the recipient of a $450,000 grant from The Andrew W. Mellon Foundation that will bring established and emerging choreographers to the classrooms, studios and stages of area colleges. The collaborative program will explore the use of dance as an art form and how its creative powers can be infused across a liberal arts curriculum.
Lafayette will partner with the five other Dance Consortium members of the Lehigh Valley Association of Independent Colleges (LVAIC): Cedar Crest, Moravian and Muhlenberg colleges and Lehigh and DeSales universities.
"We are delighted at this opportunity to partner with other area colleges and universities to enhance dance education and performance in the Lehigh Valley," says Lafayette President Alison Byerly. "This project will not only benefit the dance community, it will showcase the way in which art can stimulate explorations of creativity across a range of fields and disciplines."
Goals of the project include broadening the network of potential collaborators for choreographers, expanding opportunities for undergraduate students from all backgrounds to interact with visiting choreographers both in and out of the classroom, providing professional development activities for faculty and staff members that focus on ways dance and performance can be integrated with a liberal arts curriculum, and further establishing the Lehigh Valley as an important regional center for dance.
"It will also provide significant opportunities for curricular development across disciplines, using guest choreographers to advance learning in the humanities as well as engineering and the sciences," says Wendy Hill, provost and dean of the faculty. "This approach is very much in keeping with our commitment to foster cross-disciplinary connections, a hallmark of a Lafayette education."
The initiative began Nov. 1 and extends through Oct. 31, 2016. It encompasses short- and long-term artist residencies, classes, workshops, performances and commissions of new work. It will also promote collaboration of dance resources among the participating colleges, says Diane Dimitroff, executive director of LVAIC.
The centerpiece of the project is a series of semester-long and short-term residencies — many of them connected to touring performances by the guest choreographers' companies with Lafayette as the primary venue and one or more of the LVAIC campuses as partners.
New York choreographer Ben Munisteri will lead the first residency. He will offer the course Dance as an Art Form in spring 2014 at Lafayette. Munisteri will also serve as principal visiting choreographer-in-residence for the duration of the project, facilitating performances, classes, and teaching workshops on the LVAIC campuses.
"We don't just want dancers, but students interested in how dance works in our culture," says Suzanne Westfall, director of the arts and professor of English and theater at Lafayette. "We all have the need and desire to move. You don't have to be a professional dancer to be engaged in dance."
This initiative furthers Lafayette's strategic planning goal of strengthening programs in the arts across the campus and the curriculum, especially by engaging artists with faculty and students in creating and presenting work. The Mellon Foundation recognized the commitment that Lafayette has made over many years in presenting the work of choreographers and supporting them through artist residencies and commissions, according to Ellis Finger, director of the Williams Center for the Arts.
The project will be led at Lafayette by Hill in concert with Finger and Westfall. Additional support and advice will be provided by LVAIC Dance Consortium members, including Deborah Sacarakis, artistic director of the Zoellner Arts Center at Lehigh University; Robin Gerchman, assistant professor and director of dance at Cedar Crest College; Dawn Ketterman-Benner, professor and chair of physical education and faculty adviser to the Dance Company at Moravian College; Karen Dearborn, professor of ballet, composition, and dance history, director of dance, and executive director of the Muhlenberg Community Dance Center at Muhlenberg College; and Timothy Cowart, associate professor and director of the dance department at DeSales University.
--------------------------------------------
Lafayette is a top liberal arts college with 2,400 students and 215 full-time faculty that offers a wide variety of undergraduate degree programs including engineering. With close proximity to New York City and Philadelphia, Lafayette has one of the highest endowment-per-student rates in the nation. This means ample resources to fuel student research, and provide opportunities for study abroad, internships and field work. It means outstanding facilities, Division I sports, funding for 250 student groups on one of the most beautiful campuses in the country.
--------------------------------------------
Photo courtesy of Lafayette College
Higher resolution image available online, http://flic.kr/p/8FzruN
Kathleen Parrish
Associate Director of Media Relations
Lafayette College
Communications Division
Easton, PA 18042
parrishk(at)lafayette(dot)edu
http://www.lafayette.edu