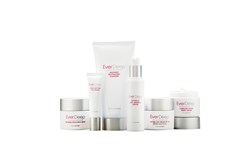 Los Angeles (PRWEB) November 05, 2013
EverDeep takes anti-aging skincare to new heights with the launch of a complete daily skincare system consisting of five core products formulated to help visibly repair and deliver smoother, more radiant, younger-looking skin.
In 2003, 8.7 million procedures were performed on people who wanted to manage the signs of aging, according to a study conducted by Natural Cellular Defense. The EverDeep skincare system delivers the benefits of algae combined with complementary targeted ingredients for transformational anti-aging benefits without harsh or invasive procedures.
The patented EverDeep system of products harnesses the power of a proprietary whole cell complex derived from algae called Algasome™, to deliver smoother, more vibrant and younger looking skin. The Algasome™ complex is a natural and rich source of essential fatty acids, amino acids, antioxidants, vitamins B, D, and E, and polyphenols.
This powerful skincare system consists of 5 core products: EverDeep Radiance Revitalizing Cleanser, EverDeep Lifting Day Cream SPF 20, EverDeep Complete Repair Night Cream, EverDeep Intensive Anti-Wrinkle Serum, and EverDeep Triple-Action Eye Cream.
There are 3 bonus/upsell products: EverDeep Illuminating Toner, EverDeep Refining Resilience Mask, and EverDeep Instant Wrinkle Corrector.
All EverDeep products are paraben free, phthalate free, dermatologist-tested, hypoallergenic, and non-comedogenic.
The EverDeep brand exclusively leverages the power of Algasome™ to deliver algae's rejuvenating properties into formulations designed to help diminish the visible signs of aging.
For more information about EverDeep, please visit http://www.EverDeep.com.
About EverDeep™
EverDeep is an anti-aging skincare system delivering the nutrient-rich composition of a unique algae found in the deep waters of northern Europe. The patented EverDeep products contain a proprietary whole cell algae complex, called Algasome™. Dr. Arthur Grossman has spent the past 40 years researching different algae species, which led to the discovery of a unique algae found deep in the waters of northern Europe. This specific type of algae is extremely resilient and efficient in retaining moisture, even in the most extreme environments. The secret to the patented EverDeep products is the breakthrough anti-aging whole cell algae formulation containing the Algasome™ complex, which is rich in fatty acids, antioxidants, amino acids and vitamins B, D & E.