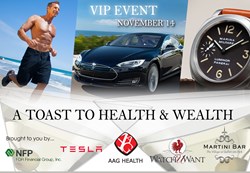 Miami, FL (PRWEB) November 07, 2013
AAG Health & Wellness, the leader in integrative wellness programs, and top luxury brands are creating the ultimate playground for Miami's elite business professionals: "A Toast to Health and Wealth."
The event, which takes place November 14 at Martini Bar on the second floor of the beautiful Village at Gulfstream Park, is open only to VIP guests of AAG Health, Tesla Motors, WatchUWant and NFP. At the exclusive party, attendees will enjoy free drinks, delicious hors d'oeuvres and exquisite raffle prizes throughout the evening.
"'A Toast to Health and Wealth' is a one-of-a-kind event dedicated to self-improvement inside and out," says AAG Health CEO Mark White. "We've developed a novel approach to looking and feeling your best – all while having a lot of fun."
As the event name suggests, health and wealth are the stars of the evening and will be appropriately represented throughout the affair:
AAG Health will offer all invitees a complimentary wellness assessment. The test, which is done with a state-of-the-art InBody analyzer, will allow AAG Health specialists to assess an individual's health and offer recommendations like nutritional plans, fitness regimens and nutraceuticals. This focus on an individual's total wellness is paramount to AAG Health's mission.
Tesla Motors will be offering technical demonstrations and breathtaking rides in the award-winning Model S, the world's first premium electric sedan. WatchUWant will also be in attendance with a $1 million collection of luxury watches on display. NFP will provide information on Health Care Reform, Asset Protection, Risk Management and other financial issues.
Tickets to the event are available through a secret link sent to invitees.
About AAG Health
AAG Health & Wellness is the leading nationwide provider of integrative wellness and age management medical services that help patients accomplish more in life. Founded in 2003 and headquartered in Miami, FL, AAG Health is a concierge-style medical practice that provides successful men and women cutting-edge treatment plans that deliver peak performance and higher quality of life. AAG Health has a network of health centers throughout the United States.
For more information, visit http://www.aaghealth.com.
About Tesla
Tesla's goal is to accelerate the world's transition to electric mobility with a full range of increasingly affordable electric cars. California-based Tesla produces Model S, the world's first premium sedan built from the ground up as an electric vehicle. Tesla vehicles deliver both unprecedented range and a thrilling drive experience.
About WatchUWant
Watchuwant.com is recognized as a leader in buying pre-owned luxury watches and is considered to be one of the largest online private resellers. We buy, sell and trade Panerai, Rolex, Breitling, IWC, AP and Hublot – to name a few. Watchuwant.com has built its business and reputation for the past 13 years on a few simple principles:

Unmatched customer service
Authenticity
Selection
Integrity
Our testimonials speak volumes about our years of service in the watch community. We take trust seriously; our reputation depends on it. Watchuwant.com is your one stop source for buying, selling, trading and consigning of high end pre-owned luxury watches. Our dedicated team of watch experts are available 24/7 and can be reached toll free at 1-866-858-8434. We can also be reached by email at info(at)watchuwant(dot)com.
About NFP
NFP is a leader in the delivery of benefits solutions for companies of all sizes and in the delivery of life insurance and wealth management solutions for high net worth individuals. Our leading, independent broker/dealer offers a wide range of choices from some of the nation's top investment companies.