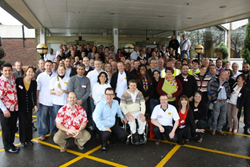 Most Britons expect house prices to rise in coming months. Along with the confidence in consumer sentiments. However, there is also a general rise in anxiety about affordability
(PRWEB) November 05, 2013
Property sellers in the UK are enjoying improved prices as an under-supply of homes drives prices up across the nation. But real estate authority, Rick Otton, has urged Britons to not be swept up in the wave of overpriced properties, and to consider embracing alternative real estate investing strategies before over-extending on home loans.
According to a new report, house prices continued to rise in October due to a lack of housing stock "and irrepressible growth in the capital". It is the ninth consecutive rise in prices of the housing revival, says the Hometrack research.
"During this heightened phase of the market, buyers need to keep a level head and carefully weigh up whether they are willing and able to pay more than what they had bargained for in order to secure a property," Mr Otton said.
"While the attraction of getting into the market is great, the risk is that buyers will struggle to cope with their mortgage debt and repayments."
Aided by government schemes increasing access to mortgages, the proportion of house asking prices have jumped to 95.2 per cent, close to its all-time high of 95.7 per cent in June 2007. The biggest jumps have been recorded in London.
Making money in property
Mr Otton is renowned in the UK for his low-risk, high reward property investing strategies which counter the advice generally handed out by real estate industry experts.
The Australian author of "How to Buy a House for a Dollar" and property mastermind promotes strategies centred around gaining positive cash flow from day one, how to invest in property with no deposit and independence from banking support.
"Most Britons expect house prices to rise in coming months. Along with the confidence in consumer sentiments. However, there is also a general rise in anxiety about affordability," Mr. Otton said.
"The desire to buy a home is currently strong, but this may not be possible using traditional property investing methods. As housing prices, particularly in certain areas in the UK, accelerate and the availability of homes drops, it's crucial to turn to new methods of buying and selling real estate."
Mr. Otton, who regularly shares his property millionaire secrets via seminars and workshops in the UK, said some of these methods included rent-to-buy, deposit builder, and taking over existing bank loans rather than applying for new ones.
For insight into these strategies, Mr. Otton is now offering a Power Property Profits Pack as a free download at RickOtton.co.uk.
About Rick Otton
Rick Otton is a property investment professional who, over the last 23 years, has introduced innovative real estate strategies to the UK, Australian and the United States. His creative 'low-risk, high-reward' approach to buying and selling houses is exemplified in his own business, We Buy Houses.
This year marks the 10 year anniversary of Mr. Otton introducing his strategies to the UK, and the 5 year anniversary of his innovative 'Buy A House For A Pound' process – one that attempted to be emulated by others. His constant process of strategy refinement, and adapting to the ever-changing real estate market, continues to place him at the forefront of property investment education.
In 2012 Rick Otton published his Australian book 'How To Buy A House For A Dollar' which was named in the list of Top 10 Most Popular Finance Titles for 2013. A UK version is on the drawing board for publication in 2014.
Mr Otton freely shares insights into his non-bank-loan strategies that have allowed everyday UK men and women to beat the rental cycle and have their own homes. He coaches others on how to build profitable businesses by facilitating transactions that focus on the needs of potential buyers and motivated sellers.
Access his free downloadable Power Property Profits Pack at RickOtton.co.uk, as are the details of early bird pricing for his next UK 3-day real estate training conference in March 2014. Phone enquiries in the UK are welcome on 0207 000 1027.