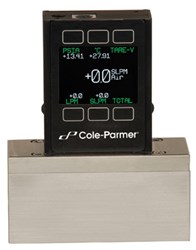 Vernon Hills, IL (PRWEB) November 05, 2013
Cole-Parmer introduces the newest technology in flowmeters and controllers with the Cole-Parmer® Low Pressure Drop Flowmeters and Controllers for Gases. Using a newer laminar differential pressure flow technology, these mass flowmeters have a much lower pressure drop across the instrument. Full-scale pressure drops are as low as 0.1 psid to 0.69 psid. The meters measure 30 standard gases with a 200:1 turndown ratio. Typical applications using this functionality include air sampling, natural gas metering and calibration, and gas analysis and totalizing.
Additionally, the meters and controllers require no warm-up time, and offer a 10 ms response time for meters and 100 ms for controllers. Select from 30 different gases in real time from the gas and gas mix calibrations already programmed into the meter or controller. An integrated keypad around the display is all that is required to program the unit for service. The 0 to 5 VDC output permits transmission of the flow value to a remote display, recorder, or controller regulating a valve or pump.
Choose from battery-powered meters for portable flowmeters or voltage-powered meters and controllers. For more information on the Cole-Parmer® Low Pressure Drop Flowmeters and Controllers for Gases, go to ColeParmer.com/20634 or call 800-323-4340.
Cole-Parmer has been a leading global source of laboratory and industrial fluid handling products, instrumentation, equipment, and supplies since 1955. Our product lines, including popular brand names such as Masterflex®, Oakton®, and more, are sold through company-owned customer channel outlets and a strong network of international dealers. We also feature an ISO-17025-accredited metrology lab for instrument calibration and repair. Cole-Parmer responds with excellence to customer needs, and offers application expertise and technical support. For more information, contact Cole-Parmer, 625 East Bunker Court, Vernon Hills, IL 60061. In the US, call 800-323-4340. International customers, call 847-549-7600. Visit us at ColeParmer.com.