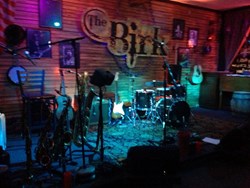 Mike & Wendy Ingraham & their amazing staff create the ultimate music fan experience! With a warm welcoming vibe & surroundings evocative of other world class iconic clubs-this is a do not miss venue.
Birkenfeld, Oregon (PRWEB) November 06, 2013
The word is starting to get out. The experience at The Birk is a rare find these days and owners/operators Mike & Wendy Ingraham are inviting everyone to their open house November 21 where they will featuring 6-time Blues Music Award Nominee Nick Moss.
Bringing in top notch local musician as well as working with music agents such as Intrepid, Bucket City, Piedmont Talent ,and Tiny Drum Records, Mike is bringing phenomenal talent to the little town of Birkenfeld, Oregon.
The food is real. The hand pressed burgers are lean and juicy, the salads are filled with vegetables, and the roast beef along with the corned beef are home cooked.
The atmosphere is very warm and unique. When you walk through the door you feel as though you are guests at Mike and Wendy's home.
The Birk is located about an hour from southwest Portland, Oregon and 40 miles inland from Astoria, Oregon and is well worth the drive. In fact their new slogan is "The Birk- It's Not That Far".