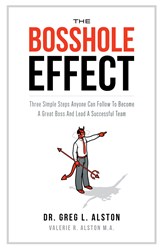 Minneapolis, Minnesota (PRWEB) November 06, 2013
A BossHole is someone who behaves like an imbecile but has the positional authority to impact others' lives. Anyone can easily analyze a boss's dominant behavior pattern to determine where they land on the scale from Complete BossHole to Great Boss using a new computerized Boss Rating System developed by college professor, management expert, and championship coach, Dr. Greg L. Alston. In his refreshingly blunt new book, The BossHole Effect, Dr. Alston teaches readers how to mold themselves into respected, effective leaders. The BossHole Effect is available everywhere books are sold.
The BossHole Effect, is fundamentally different than most popular books about leadership that frame leadership as a theory or philosophy. Using practical examples from his 35 years in business management interspersed with lessons learned while coaching nationally ranked fast pitch softball teams, Dr. Alston presents a step-by-step action plan that anyone can follow to dramatically improve their leadership skills and ability to run a successful team. This funny, engaging, quick to read, book provides anyone with the tools they need to overcome The BossHole Effect, which is the ability of a bad boss to suck the joy, energy and enthusiasm out of your life.
Great leaders understand how to coach people to become better than they thought they could be. They step in and take command when they need to but not when they don't, and they know how to create the environment that will allow their team to produce championship caliber work. After one weekend reading The BossHole Effect, anyone can learn to be a better leader by beginning to act like good leaders act.