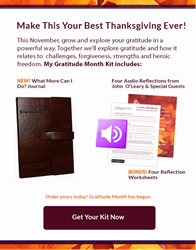 "I've completed your first gratitude reflection and it has already improved my month. I look forward to what reflections you will offer in December." - Gail, customer
St. Louis, MO (PRWEB) November 06, 2013
John O'Leary, president of Rising Above with John O'Leary a lifestyle organization, created a program to explore gratitude in preparation for Thanksgiving and it is available at http://www.RisingAbove.com/Gratitude-Program.
"I created this program so you have a tool to see where you are currently experiencing gratitude in your life, where you are missing it and how you can help others harness their gratitude too," O'Leary says. "This program is great as a preparation for Thanksgiving, but can be a life-changing exercise regardless of the season. When we are able to live in gratitude everyday; that is when we can fully live the possibility of our lives."
O'Leary's Gratitude Month Kit explores gratitude as it relates to life challenges, personal strengths, forgiveness and heroic freedom. The kit comes with four audio reflections, accompanying worksheets and a journal to dig deeper into each of the four self-help reflections. The program was developed to be flexible; the reflections can be accessed and completed as participants' schedules allow.
O'Leary garners his unique perspective on how to live life from overcoming a childhood fire that burned 100% of his body and which he was not expected to survive. Today, at 36, he travels the world to teach others how to truly live.
As an international speaker, John presents at more than 150 events each year. The mission of Rising Above with John O'Leary is to inspire you to take back your life, ignite your possibility and change your world. Find out more at http://www.RisingAbove.com.