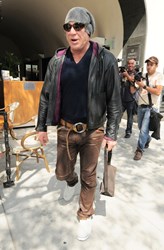 Los Angeles, California (PRWEB) November 06, 2013
Bendenoun met Rourke last summer, and personally invited him to the Robin's Jean Beverly Hills store to meet Robin Chretien, owner of the brand. During the meeting, Bendenoun presented the latest looks from the Robin's Jean collection to the actor in the hopes of promoting the apparel line. Rourke loved the unique pieces, and was snapped by photographers wearing the Motard Cuir pants from the collection in Beverly Hills recently. Furthermore, the actor will be wearing the pants in his upcoming hit, "Sin City: A Dame to Kill For," opening in theaters in 2014.
Bendenoun is the marketing director for the brand, Robin's Jean. His main focus in the position is to market the apparel to an international audience, and grow brand awareness through innovative projects and collaborations, such as those with celebrities. To date, Bendenoun has worked with actors, models, singers, like Flo Rida, Shania Twain, Katy Perry, David Guetta, models from Pinkerton Modeling Agency, etc., to create unique looks to promote the Robin's Jean apparel line in magazine shoots, music videos, concerts and movies.
"I have admired Mickey Rourke's acting skills for a long time, and have been a big fan of his work," said Bendenoun. "Having the chance to meet him, and collaborate with him on looks for his upcoming film was a truly rewarding experience."
Robin's Jean feature a unique collection of jeans, jackets, tops, hats and belts for men and women. Represented by the gold wings logo, Robin's Jean captures Robin's childhood dream of freedom and flight. Robin arrived in Los Angeles in 1996. His skills combined with talent, caught the eye of the best denim companies in LA. In 2005, he decided to incorporate his passions for designing clothes, riding motorcycles and vintage cars with his fascination of the American Indians and the spirit that embodied warriors and their fight for freedom to create his own line, Robin's Jean. Today, Robin designs all his looks in the United States, and his unique pieces truly embody his love for freedom of the open road and the big sky.