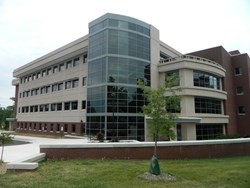 The Science Lab Building West is a wonderful example of SIUE's commitment to its long-term goals and to the well-being of Southwestern Illinois.
Edwardsville, Ill. (PRWEB) November 05, 2013
Southern Illinois University Edwardsville christened its $52 million Science Building West this afternoon as SIU President Glenn Poshard and SIUE Chancellor Julie Furst-Bowe officially cut the ribbon. Joining in the celebration were SIU Board of Trustees Chairman Randal Thomas, SIUE Interim Provost Ann Boyle, and College of Arts and Sciences Dean Aldemaro Romero.
The facility incorporates laboratories for faculty and student research initiatives in a state-of-the-art learning environment. It opened for use during the 2013 fall semester.
"The SIUE Science Building Complex project has been worked on at the state level for many, many years by both current and former state legislators, and many others in this community," Poshard said. "Our elected officials, University leaders, business and labor leaders, and alums never gave up on this project, because they have long understood and appreciated the prosperity that this University brings to Southwestern Illinois.
"For some time now, the lack of a new science building has been an impediment to the growth of this University and, today, we can say that hurdle has been cleared."
Three departments, including chemistry, biological sciences and environmental sciences, have moved into Science Lab Building West. Physics, mathematics, statistics and the STEM Center will stay in Science Lab Building East, which is the existing building. The next phase of the project is a $30-million renovation to the existing Science Lab Building East that will begin in early 2014. Both buildings comprise the SIUE Science Building Complex.
"The Science Lab Building West is a wonderful example of SIUE's commitment to its long-term goals and to the well-being of Southwestern Illinois," Furst-Bowe said. "This new construction honors our goal of 'Innovative High Quality Programs.' With so many students leaning toward the health sciences, SIUE is even better positioned to make a significant and extremely beneficial impact on the future of health care in this region."
The new building features the newest renewable power source on campus — a 30-kilowatt solar array. The Illinois Clean Energy Community Foundation (ICECF) provided a $103,000 grant for support to reach the goal of providing a portion of the new building's electricity via the sun's rays.
"As an SIUE alum, I am personally very proud of the strides being made on this campus and the commitment of the faculty and staff here to continually improve and expand what we offer," Thomas said. "It's important to the citizens of Southern Illinois that we remain at the forefront in our vision for higher education, including the facilities in which students work and learn."
The ICECF collaborated with the University, the Illinois Capital Development Board, Hastings & Chivetta architects, BRiC Partnership engineers and contractor JF Electric, Inc., to make the $230,000 solar array functional and effective.
With the array's electrical output displayed on video monitors in the building, there will be a continuing demonstration of renewable solar power's possibilities and practical application.
Other Leadership in Energy and Environmental Design (LEED) features include use of non-heat absorbing roofing materials; low water use plumbing fixtures; high efficiency insulating materials; collection and use of recyclable materials; sun shades on the south and west facing windows; high efficiency window glazing; lighting and air conditioning occupancy sensors, and active teaching displays showing building energy use.
SIUE's Art and Design West building, which is connected to the existing Art and Design East structure, was dedicated in spring 2013, is the University's first LEED Gold-Certified building on campus.
Southern Illinois University Edwardsville provides students with a high quality, affordable education that prepares them for successful careers and lives of purpose. Built on the foundation of a broad-based liberal education, and enhanced by hands-on research and real-world experiences, the academic preparation SIUE students receive equips them to thrive in the global marketplace and make our communities better places to live. Situated on 2,660 acres of beautiful woodland atop the bluffs overlooking the natural beauty of the Mississippi River's rich bottom land and only a short drive from downtown St. Louis, the SIUE campus is home to a diverse student body of nearly 14,000.