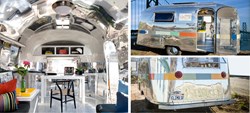 Climb Real Estate Group agents...were available to provide free real estate advice along with face painting and treats, plus a drawing for dinner for two at Vega in Bernal Heights.
San Francisco, CA (PRWEB) November 05, 2013
Following its popularity at the Bernal Heights Outdoor Cinema's Film Crawl in Bernal Heights on August 30th, the Climb Airstream returned to the neighborhood for the 25th Annual Bernal Heights Fiesta on the Hill on Sunday, October 20, 2013. Climb Real Estate Group agents Michael Minson, Danielle Lazier, and Matt Woebcke were available to provide free real estate advice along with face painting and treats, plus a drawing for dinner for two at Vega in Bernal Heights. Also present at the Airstream were May Montana and Kenny Heller from Opes Advisors, who helped hand out balloons to visitors while answering questions about real estate investments, mortgages, and wealth management.
"The Airstream was an extremely popular attraction next to our face painting booth for the children," said Michael Minson, who was pivotal in the coordination of Climb's Airstream on Cortland Avenue. "We had lines of interested parties looking to tour our new office space and get acquainted with the Climb brand."
Michael Minson, a Sales Associate at Climb Real Estate, is also active at other community events in Bernal Heights, including the annual Hillwide Garage Sale. Minson led the garage sale's team of volunteers in raising $1,525 for the Bernal Heights Neighborhood Center—the most successful the event has ever been, according to the New Bernal Journal. Minson said, "Leading the Hillwide for the Neighborhood Center was an incredibly rewarding experience. We raised five times more than we anticipated, all of which goes to support senior, youth and minority programs."
The Climb Airstream is an innovative mobile retail store designed by San Francisco-based Design Within Reach, a retailer of well-designed furnishings and accessories, and Stacey Lim of Stacey Lim Designs. The special edition Design Within Reach travel trailer sports all the aluminum goodness of the iconic Airstream, with added elements that reflect the youthful and innovative Climb brand, including a clock by Nelson Ball and a coat rack by British designer Tom Dixon. There's never been a more stylish mobile real estate office. At 120 square feet, it is one of the smallest real estate storefronts to date, which allows it to be placed in a variety of locations to allow consumers to interact with Climb Real Estate agents and appeal to a wide range of customers. Look for the Climb Airstream at agent open houses, new development openings, community events, and street fairs. Climb Real Estate Group's sleek stainless steel trailer is moving throughout the city of San Francisco.
This is the second iteration of Climb's Airstream mobile store, after the success of their first 90-day pilot program in Winter 2012. The new DWR Airstream is even more compact and features additional high-tech features including free wireless internet, a high-quality sound system and flat-screen TV, a Simplicit stand with an iPad kiosk, and the Open Home Pro application for lead capture. You can get updates on the Airstream's location by following @climbairstream on Twitter.