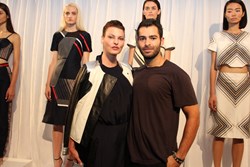 'I want my clothes to make a girl feel cool,' said Jonathan Simkhai.
New York, NY (PRWEB) November 05, 2013
With the launch of his first collection on Bergdorfgoodman.com, Jonathan attended a private dinner which included some of the industry's leading bloggers such as Danielle Bernstein of WeWoreWhat, Alexandra of Garance Dore, Alexandra Spencer of 4th and Bleeker, Kelly Framel of The Glamourai and Natalie Joos of Tales of Endearment. The girls enjoyed wearing pieces from the Simkhai line while playing a game of celebrity. With not only the support of prominent bloggers but also the CFDA backing him, the designer is propelling forward at a rapid rate.
Simkhai, a young talent to watch, has been a part of the CFDA incubator program since 2012, a program which fosters and supports young and promising designers. The emerging designer has a strong celebrity following including Linda Evangelista, Drew Barrymore, Kristen Stewart, and Taylor Swift.
The Resort 14 collection, now available on Bergdorfgoodman.com and in stores draws its inspiration from the motif cowboys vs. aliens. With a boundless imagination, Simkhai's vision for the collection was as if "cowboys and aliens went to war," states the young talent.
Metallic extraterrestrial shades are ostensibly visible in many of garments on both boucle and leather. Most notably is a skinny silver pencil skirt hitting just below the knee, a gold tweed bustier bra top with a matching skirt, and silver leather combo neoprene sweatshirt. "Bad for the basketball court, but great for the VIP party after the game," as mentioned on style.com.
Many of the denim and silk pieces are finished with western detail in both the stitching and pocketing. Color block denim is also an underlying theme see on many garments which alludes to the cowboy inspiration. The wild wild West is most transparent in the hide print silks and furs that Simkhai had deliberately created for this particular collection.
Simkhai has been drawing a plethora of attention within the industry with both his Resort and Spring 2014 collections featured in the likes of Style, Bazaar and Elle. Style.com says his "vision is strong" and that he is "passionate—no bad thing in a young designer."
Find the Resort 14 collection at Bergdorf Goodman.com:
http://www.bergdorfgoodman.com/Jonathan-Simkhai/5F-Contemporary/cat424717_cat413605_cat230300/c.cat?fromDrawer=true
With the launch of the line in 2010, Jonathan Simkhai presents his take on sophisticated dressing for the modern cosmopolitan woman. The brand is a New York based advanced contemporary women's line which indulges in the ambiguity of blurred gender lines within the realms of fashion and sexuality.