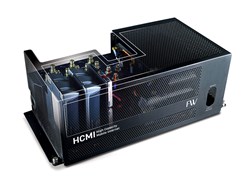 Eugene, OR (PRWEB) November 05, 2013
Feeney Wireless (FW), a leader in Machine-to-Machine (M2M) system development, announces High Capacity Mobile Internet (HCMI); a multi-modem, multi-carrier Wi-Fi solution, allowing users to harness high-bandwidth internet in mobile applications.
HCMI provides uninterrupted wireless access for Public/Private transportation organizations as well as emergency response vehicles. In areas with poor signal strength, HCMI uses failover logic to choose the modem with the best connection to continue service. This allows passengers in mobile environments the ability to stream video, catch up on work projects, or just browse the internet while commuting, all while avoiding outages, congestion, interference and coverage gaps. Public safety companies can now respond to critical situations while sharing live video, voice, and data with other emergency personnel.
Designed for multi-carrier operation, HCMI is optimized to take advantage of overlapping coverage footprints and provide redundancy in areas with poor signal. Available in 2 – 5 modem configurations, HCMI uses a load balancing system capable of supporting the high-bandwidth consuming activities most consumers have become accustomed to, but in mobile environments.
Founded in 1999, Feeney Wireless is an internationally recognized Machine-to-Machine (M2M) systems integration, products and services company, offering product innovation, speed to market, and rapid commercialization of new connected devices. Feeney's cellular-based wireless solutions fulfill the needs of enterprise customers and public sector agencies around the world. With a strong engineering heritage Feeney Wireless focuses on doing things better, guaranteeing the best M2M solutions, services and support. Paired with the ability to support customers through the entire M2M lifecycle, Feeney's unique position in the Machine-to-Machine space makes a strong partnership.
For further information on Feeney Wireless and Machine-to-Machine solutions, please call (800) 683-4818.