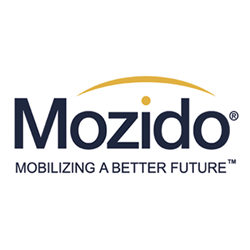 As Mozido expands its reach throughout the mobile services industry, much of its success is owed to the tremendous talent of the company's senior leadership team.
Austin, TX (PRWEB) November 05, 2013
Mozido, a global leader in white-labeled mobile cloud marketing, commerce and financial services today announced three significant promotions on its executive management team. Chief Technology Officer (CTO) Mike Love has been named President and Chief Operating Officer (COO); Minaz Sarangi has been named Executive Vice President and Chief Information Officer (CIO); and David Luther has been named Executive Vice President, Global Business Development and Chief Marketing Officer (CMO). The promotions are designed to enhance Mozido's strong senior leadership team and continue to build on the company's position for rapid growth.
"As Mozido expands its reach throughout the mobile services industry, much of its success is owed to the tremendous talent of the company's senior leadership team," said Mozido founder Michael Liberty. "We highly value the top-of-the-line knowledge and expertise that Mike Love, Minaz Sarangi and David Luther bring to Mozido, and we are confident that expanding their roles will help to not only ensure Mozido's continued success, but to build on it."
Mike Love is a 30-year veteran of the payments technology industry. He has a track record of developing and implementing some of the most advanced and innovative global payment systems, many of which have directly influenced the existing technologies within this field. Prior to joining Mozido, Mr. Love was Chief Architect and head of Global Technology Solutions and Innovation at First Data Corporation. In this role, he was responsible for transforming First Data's global technology infrastructure from it legacy roots to contemporary cloud and mobile-based offerings. Mr. Love also served as President of Retail Decisions' Global Services Group, President and CEO of The Paytriot Network and President and CEO of CardSystems, which he co-founded in 1990.
"Mozido is revolutionizing the way individuals around the world shop and manage their finances, as well as the ability of companies large and small to communicate with their customers and business partners," said Love. "It is an honor to be a part of this growing company and work with our outstanding team. I am thrilled to now be playing an expanded role."
Minaz Sarangi has an extensive understanding of the global banking and payment security industry, and he brings over five years of experience in financial services to his new position at Mozido. Prior to joining Mozido, Mr. Sarangi held various executive level positions at TD Bank Financial Group, ING Group, and ING Canada. During his time at TD Bank Financial Group, Mr. Sarangi served as Chief Architect and Head of Enterprise Shared Services, which provided him with valuable insight into the construction of digital platforms and shared services.
"Being a part of Mozido has been a tremendous opportunity to expand and build upon my experience in the mobile technology industry," said Sarangi. "I look forward to being a part of the continued growth that lies ahead."
David Luther has more than 30 years of experience building software business development initiatives and has worked with companies ranging from Fortune 500s to small start-ups. In his most recent role, prior to working with Mozido, Mr. Luther served as North American General Manager at the payment software provider Distra, where he played a central role in the company's business development. Mr. Luther's previous experience also includes executive leadership positions at Unisys, Metavante Corporation, Brokat, and S1 Systems, among others.
"These staffing updates help to solidify an experienced yet entrepreneurial executive team, which is well-positioned to lead Mozido's direction and growth in the high-potential market for mobile payments and marketing services," said Luther. "We are fortunate to have leaders who have had success both in growing small businesses and leading large organizations and Fortune 500 companies, not to mention their knowledge when it comes to user experience, scale, reliability, and security."
About Mozido
Mozido provides an integrated platform of cloud-based, white-label, mobile payment, shopping and marketing solutions, complemented by real-time, customer behavior analytics. Our platform is highly interoperable and can work with virtually any wireless carrier or mobile device, including smartphones and feature phones. Mozido enables companies in retail, financial services, consumer packaged goods and telecom to serve both banked and unbanked consumers.For more information, visit us at http://www.mozido.com.
Follow us on Twitter: @MozidoGlobal.
# # #
Mozido is a registered trademark of Mozido, LLC.
Media Contacts:
Nicole Giambusso
Office: 617-646-1046
ngiambusso(at)oneillandassoc(dot)com
Alice McCann
Office: 617-646-1070
amccann(at)oneillandassoc(dot)com