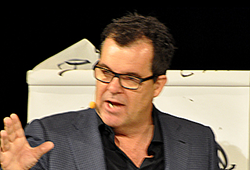 My strategies treat people as people, rather than units to buy or sell, and I teach my students how to work with sellers and buyers to structure property deals that mean both parties come out with a good solution
(PRWEB) November 06, 2013
Professional property authority Rick Otton has responded to recent reports about the new off-market property sales 'trend' sweeping London, noting that there was nothing new about it. With his characteristic good humour, he debunked the idea that this is a novel way of creating property deals.
"I've been telling people about this way of buying houses for a decade, so it's funny to see it becoming trendy to buy a house without going through endless advertising and rounds of viewings," said Mr Otton. "What's even funnier is that it's being called 'whisper marketing'. I've been shouting about property deals like this for years!"
The 'trend' apparently began in west London, as the long-established method of high-end property sales via discreet phone calls began emerging in lower-end property deals as well. One real estate agent estimates that more than half of their business in 2012 was made up of these private sales. A recent story in The Telegraph revealed that the so-called 'whisper sales' trend is sweeping through London, and is also showing up in the countryside.
Mr Otton has spent the past ten years teaching people in the UK and around the world how to invest in property without needing to jump through real estate agent and bank hoops, by focussing on solving people's property problems.
"My strategies treat people as people, rather than units to buy or sell, and I teach my students how to work with sellers and buyers to structure property deals that mean both parties come out with a good solution" Mr Otton explained.
"This non-traditional approach also tries to avoid some of the big headaches people associate with a property portfolio, such as new bank loans and massive deposits".
"It's interesting to see people discovering that you can sell a house to one interested person with one viewing, or that the right person will be happy to make an offer on the spot. Traditional real estate agents are often surprised to find that you don't need to have shiny brochures and a marketing campaign to sell a house," said Mr Otton.
Many of the property educator's successful students note that by implementing Mr Otton's progressive property strategies, they develop the ability to discern serious buyers almost immediately, and to sell a house with a single showing to a select number of buyers.
It's not some kind of mysterious property magic, it's just common sense! But I guess it's one of the few times in my life where I get to say that I'm in with the trendy crowd!" said Mr Otton.
To help people in the UK to understand his creative real estate techniques, Mr Otton has offered, for a limited time, a free downloadable Power Property Profits Pack at http://www.RickOtton.co.uk.
About Rick Otton
Rick Otton is a property investment professional who, over the last 23 years, has introduced innovative real estate strategies to the UK, Australia and the United States. His creative 'low-risk, high-reward' approach to buying and selling houses is exemplified in his own business, We Buy Houses.
This year marks the 10 year anniversary of Mr Otton introducing his strategies to the UK, and the 5 year anniversary of his innovative 'Buy A House For A Pound' process – one that attempted to be emulated by others. His constant process of strategy refinement, and adapting to the ever-changing real estate market, continues to place him at the forefront of property investment education.
In 2012 Rick Otton published his Australian book 'How To Buy A House For A Dollar' which was named in the list of Top 10 Most Popular Finance Titles for 2013. A UK version is on the drawing board for publication in 2014.
Mr Otton freely shares insights into his non-bank-loan strategies that have allowed everyday UK men and women to beat the rental cycle and have their own homes. He coaches others on how to build profitable businesses by facilitating transactions that focus on the needs of potential buyers and motivated sellers.
Access his free downloadable Power Property Profits Pack at RickOtton.co.uk, as are the details of early bird pricing for his next UK 3-day real estate training conference in March 2014. Phone enquiries in the UK are welcome on 0207 000 1027