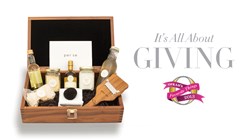 This gift set is a celebration of the luxuriousness of the black truffle.
New York, NY (PRWEB) November 05, 2013
The highly anticipated announcement of Oprah's Favorite Things for the 2013 holiday season is here and included in that coveted gift guide is the Thomas Keller's Black Truffle Risotto Gift Set from the Per Se kitchen. Exclusively available online at http://www.perseny.com, this gift is one of four limited edition collections hand selected by Chef Keller from his restaurants for the upcoming holiday season.
"People often say to me, 'I want my food to taste like yours,'" said Chef Keller, Chef/Proprietor, Thomas Keller Restaurant Group. "Well, one way to start is with the same ingredients. That's where this gift set comes in. You not only get a recipe, with easy-to-follow step-by-step instructions. You also get access to the same rare truffles we use in our kitchen. Before you know it, you'll be producing a beautiful risotto and sharing the dish with friends and loved ones. It's my hope that the evening will remind you of a meal you enjoyed at Per Se."
Packaged in an elegant wooden box, carved with the Per Se logo, Thomas Keller's Black Truffle Risotto Gift Set ($500) includes these rare ingredients sourced by the restaurant and Chef Keller himself:

One black truffle from Provence, France
Custom wooden truffle shaver carved with the Per Se logo
Carnaroli rice, which is a medium-grained rice native to the Novara and Vercelli regions of northern Italy, traditionally used for making risotto
Organic white truffle extra virgin olive oil used by the chefs at Per Se
Battenkill Farm's whipped heavy cream made in upstate New York
Grated Parmigiano-Reggiano, a pasteurized cow's milk cheese from Emilia-Romagna
Per Se's chicken stock
"This gift set is a celebration of the luxuriousness of the black truffle," said Eli Kaimeh, Chef de Cuisine, Per Se. "Exclusively for the holidays, we are presenting our guests with the opportunity to share this exceptional dish that we serve in the restaurant at their own table. All of the ingredients in this gift set are rare items, specially sourced, just as they are for the restaurant. My only advice for the recipient of this gift is to be generous with the truffle and enjoy it with good company."
Other gifts included in Chef Keller's 2013 holiday gift collections include the Thomas Keller Caviar & Blini Gift Set ($500) from The French Laundry, the Thomas Keller Chocolate Tart Gift Set ($200) from Bouchon and the Thomas Keller Limited Edition MAC Knife Set ($900). Each of these gifts can also be purchased online.
Additionally, select gift sets from Chef Keller's new retail shop, Finesse, The Store, are also available for purchase online. These exclusive gift sets feature an array of hand-selected kitchen tools, apparel, gifts and accessories favored by Chef Keller and his restaurants. Finesse, The Store is located in Yountville, Calif. in the Edward James Courtyard and is open Thursday through Monday, 11:00 a.m. to 6:00 p.m. For more information regarding the store and products sold, please email http://mailto:store(at)tkrg(dot)com.
About Per Se
Opened in 2004 by Chef Thomas Keller and employees of The French Laundry, Per Se is one of 15 restaurant properties in the U.S. operated by the Thomas Keller Restaurant Group. Located in the Time Warner Center in New York, Per Se offers spectacular views of Central Park and Columbus Circle, the restaurant includes a serene 64-seat dining room, salon, bar and wine cellar designed by Adam D. Tihany.
The restaurant offers a daily nine-course Chef's tasting menu featuring the finest quality ingredients available each season. As a result of the attention to detail in both the kitchen and the dining room, Per Se has received numerous noteworthy accolades from both the culinary community and international press, including a four-star rating from The New York Times in 2011, a three-star rating from Michelin Guide New York City since 2007, as well as being ranked among the top ten restaurants in the world by Restaurant Magazine. The restaurant's cuisine is complemented by an extensive wine list, also garnering attention, such as recent recognition from Wine Spectator as a Grand Award recipient.
For more information about Per Se, visit http://www.perseny.com. For media requests, email media(at)tkrg(dot)com or call (707) 754-4199.
###