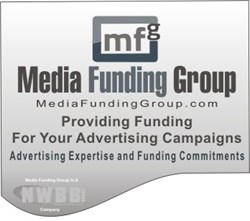 Washougal, WA. (PRWEB) November 05, 2013
Media Funding Group, A NWBB Inc. company, headquartered in Washougal WA, announced today that they have committed to supply Broken Chains, Inc. with $1 million in advertising campaign funding.
About Broken Chains Inc.
Broken Chains Inc. is a nonprofit entity , operating in the greater Chicago and Atlanta areas as well other major or small cities , devoted to encouraging and developing positive role models in the lives of today's youth through school based programs, conferences, events and mentoring activities. Broken Chains Inc. will be focusing on improving the quality of life for disadvantaged and economically challenged youth through partnerships with parents, leaders, groups and corporate sponsors dedicated to making a difference in the future of our countries youth. Broken Chains Inc. welcomes everyone to join the fight to develop a better life for our youth.
About Media Funding Group
Media Funding Group provides advertising expertise and private funding access for Advertising and Marketing campaigns to companies, movies and non profit entities.
Media Funding Group CMO, Marc Hatch stated : We are very excited to be able to utilize our investment ability to support the future of today's youth. There is no better investment available to a corporate entity than making a difference in the life of a child .
Broken Chains Inc. President, Chan Melton stated: The funding infusion from Media Funding Group will allow us to create consumer and corporate awareness of the programs we are developing to impact the daily lives of the children in Chicago, Atlanta and other major and small cities as well.