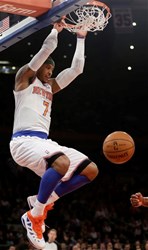 Denver, Colorado (PRWEB) November 05, 2013
The World Series just ended with Boston clinching their first title at home since 1918. NFL Football is nine games into its 16 game regular season. And NHL Hockey hit the ice on October 1, and is now 15 games into the 82-game regular season.
Now, there's NBA Basketball. The preseason began October 5 and the 68th NBA 82-game regular season tipped off just last week on Tuesday, October 29. LeBron James and the NBA champion Miami Heat hosted and defeated the Chicago Bulls 107-95.
"While NHL Hockey and NFL Football tickets are now trending, we're seeing a jump in sales for NBA tickets as well," said Felina Martinez at online ticket marketplace BuyAnySeat.com.
"That's why we're proud to offer sports fans the most comprehensive and continuously updated selection of sports tickets online, with a worry-free guarantee to protect their purchase," said Martinez.
"To access the full line-up of NBA Basketball tickets now available, customers can go to BuyAnySeat.com and click on NBA icon – then select their team and their tickets," said Martinez.
The NBA regular season is set to run through April 16, 2014, followed by the playoffs and finals in June – just as MLB Baseball is heating up their 162-game season. The 2014 NBA All-Star Game will be played on February 16, 2014, at the New Orleans Arena in New Orleans, Louisiana.
During the offseason, 13 teams made coaching changes. The New Orleans Hornets became the New Orleans Pelicans. And, the Charlotte Bobcats will become the Charlotte Hornets again for the 2014–15 season – and for the first time since the 2001–02 season.
The Cleveland Cavaliers won the #1 draft for the second time in three years and tapped Anthony Bennett of UNLV. The NBA also officially implemented a tournament system in both of their Summer League systems. The Oklahoma City Thunder and Golden State Warriors were the inaugural champions of the Orlando and Las Vegas Summer League Tournaments respectively.
Last season ended on June 20, 2013 with the Miami Heat defeating the San Antonio Spurs in seven games to win the 2013 NBA Finals. Top Eastern conference teams, in order of season-ending rank, were the Miami Heat, New York Knicks, Indiana Pacers, Brooklyn Nets, Chicago Bulls, Atlanta Hawks, Boston Celtics and Milwaukee Bucks.
Leaders in the Western Conference were the Oklahoma Thunder, San Antonio Spurs, Denver Nuggets, Los Angeles Clippers, Memphis Grizzlies, Golden State Warriors, Los Angeles Lakers and Houston Rockets.
Last year, the Heat led the league with a 66-16 with a .805 winner percentage. The New York Knicks Carmelo Anthony had the most points per game at 28.7. LeBron James took home season MVP, led the league in Efficiency Per Game with 31.6, and scored a season-best seven Triple-Doubles.
To shop for discount NBA Basketball tickets, visit BuyAnySeat.com.
About BuyAnySeat.com: An online ticket marketplace, BuyAnySeat.com connects sports, theater and other live entertainment fans to an extensive network of ticket sellers worldwide. The site's simplified listings and navigational tools enable shoppers to easily locate, compare and purchase inexpensive, discounted or lower-priced tickets to virtually all advertised sports and entertainment events around the globe.
In addition, the ticket marketplace, which is PCI-compliant and Norton Secured, also provides customers with a complete Worry-Free Guarantee on all ticket purchases. Based in Denver, Colorado, BuyAnySeat.com is a subsidiary of Denver Media Holdings. For more information, please visit http://buyanyseat.com.