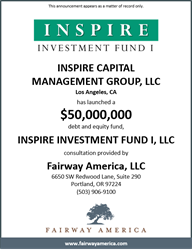 It was important to us to create a best-in-class Fund that had great credibility in the marketplace so we engaged the guys at Fairway to make sure we did it right from the beginning.
Los Angeles, California (PRWEB) November 06, 2013
Fairway America, LLC™ ("Fairway") played the lead role in consulting, advising and guiding the structure and formation of the Inspire Investment Fund I (the "Fund") in Los Angeles, California. The Fund's Manager, Inspire Capital Management Group ("ICMG") is owned by principals Mikhail (Mike) Zlotnik of Brooklyn New York and Jordan Fisher of Los Angeles, both active and respected players in the real estate private lending space.
Zlotnik has been a debt and equity investor in real estate for more than 10 years and a private lender the past 5 years, running a successful private lending fund. He joined forces with Fisher, a seasoned real estate investor, licensed broker and one of the nation's leading authorities in the residential distressed property market, to create what they call "inspired capital". "We felt our unique resources and active involvement in our deals gave us a significant competitive advantage over other competitors in this space", said Fisher. "We are inspired by our clients' businesses and we like to think our involvement in their success inspires them. It was important to us to create a best-in-class Fund that had great credibility in the marketplace so we engaged the guys at Fairway to make sure we did it right from the beginning. They brought practical, from-the-trenches knowledge and experience and were fantastic to work with."
Zlotnik and Fisher had all the right ingredients needed to launch a fund. Their networks, connections, deal flow, and experience combined to position them for success. But as with many solid and capable dealmakers, they were not sure exactly how to structure the economics of their Fund or how they were going to handle the all-important back-end fund administration. "The idea for the Fund has been several years in the making and represents a natural extension of our complementary real estate businesses and leveraged positions in our respective markets", said Zlotnik. "We hired Fairway not only to help us structure and launch the Fund, but also to perform the ongoing administration because we want to focus on what we do best. I am a big believer in playing to our strengths and engaging professionals like Fairway to add credibility and help us get as much traction as quickly as we can."
The Fund will focus primarily on real estate secured loans to small fix and flippers and residential developers in the single family space. Because ICMG has an active management philosophy that requires focused attention on their clients and deals, this made the decision to hire a competent and seasoned fund administrator even more important. "We know how vital it is to professionally handle the investor side of the business", said Zlotnik. "Fairway has all the tools, resources and experiences that allow us to focus where we need to focus without worrying that there are things we are missing that we didn't know about. We couldn't be happier with the relationship with Fairway and are super excited to be launching our Fund."
About Fairway America
Fairway America, LLC is a long-time real estate lender, fund manager and boutique real estate finance advisory firm providing strategic business planning services nationwide to select private money lenders and real estate operators around the structure, architecture, and administration of proprietary 506 Reg D mortgage pool funds. Fairway America Management Group is the manager of Fairway America Fund VI, LLC, making creative small balance real estate investments nationwide. To learn more, visit http://fairwayamerica.com.
About Inspire Capital Management Group
Known nationally as the "L.A. Short Sale Guy", Jordan Fisher is very active within the Los Angeles and Orange County real estate communities having bought and sold hundreds of properties. Mikhail Zlotnik has a background in both real estate and technology, including data analysis, business process engineering, risk assessment and optimization. Both Fisher and Zlotnik are members of several influential mastermind groups across the United States and in mentoring other real estate investors and market players. Inspire Investment Fund I accepts verifiable accredited investors only.