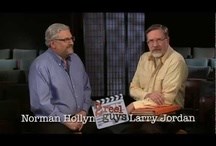 "2 Reel Guys" returns for an eagerly anticipated second season!
Oak Park, CA (PRWEB) November 06, 2013
The second season of "2 Reel Guys" presents another thirteen video episodes, covering a wide range of visual storytelling elements, including how to work with actors, casting, staging fight scenes, shooting comedy, editing techniques, sound tips, wedding videos, and much more. Each installment examines and illustrates a valuable filmmaking concept and, with new shows being posted every two weeks, viewers are guaranteed months of entertaining education, all in one website. It's like going to film school without leaving home.
"When Larry and I looked around at the tutorial landscape several years ago," said Norman Hollyn, film & television editor ("Heathers," "Sophie's Choice" & more), "We saw tons and tons of videos on what buttons to push and how, but nothing on WHY you'd push those buttons to tell stories. Since that's what I do - as an editor, and as a teacher - we thought it would be fun and useful to do one that talked about filmmaking from a storyteller's point of view - in an easy to understand, bite-size way."
With many filmmaking outlets covering the technical side of production, distribution and more, the overriding goal of "2 Reel Guys" is to strengthen the creative skills of prospective filmmakers. Join Norman, Larry and the 2 Reel Players as they illustrate through stories and dramatic action the process of planning, staging, shooting, and editing a story.
"Our goal in creating this series," said Larry Jordan, producer, director, editor, and Apple-Certified trainer, "was to illustrate key storytelling concepts using our cast of actors, as well as Norman's and my own experience in creating feature films, network television and corporate productions. Our goal was to focus on the craft of telling stories - the techniques you can't learn in school, that make all the difference in creating compelling stories. Besides, both Norman and I love to tell stories."
Dedicated to the creative process of visual storytelling, "2 Reel Guys" shows that telling a good story doesn't require a lot of money, a lot of gear, or even a lot of people. Mainly, you just need the knowledge of how to shape the story into something other people want to watch.
The episodes in Season 2 include:

Episode 21: Creating Funny: How to Setup, Build, and Pay-off a Joke
Episode 22: Directing Actors for the Camera
Episode 23: Improving Communication in the Editing Room
Episode 24: Music Videos are Still About Story
Episode 25: What Makes a Good Character
Episode 26: How Locations Can Help Advance Your Story
Episode 27: Staging a Fight Scene
Episode 28: Secrets From a Casting Director
Episode 29: Lighting Techniques for Multiple Actors
Episode 30: Changing Emotions is Essential to Good Storytelling
Episode 31: How to Get From Production to the First Cut
Episode 32: Crafting Storytelling Into Wedding Videos
Episode 33: Telling Stories with Visual Effects
Even after each "2 Reel Guys" episode is over, audience members are invited to participate in the show's ongoing education by continuing the conversation. Take part in the discussion on the "2 Reel Guys" Facebook page and episode comments from the shows.
ABOUT THE EXECUTIVE PRODUCERS
Norman Hollyn heads the Editing Track at the University of Southern California's (USC) School of Cinematic Arts, and is the writer of the popular book on storytelling, THE LEAN FORWARD MOMENT.
Larry Jordan is a world-renowned digital media trainer and lecturer, as well as the author of numerous books on editing software. Jordan is also Executive Producer and Host for "The Digital Production Buzz" a popular podcast on digital production, post-production and distribution.