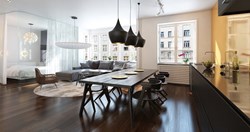 POSH365 features"Shop by Style" collections where members can shop curated home decor handpicked from the stylists and ask free style advice.
Irvine, CA (PRWEB) November 13, 2013
POSH365.COM, a curated discounted modern and rustic home goods site, founded by a group of women who have a passion for stylish home décor, just re-launched recently with its revamped website design. "We love fusion these days. Fusion is what makes the classics fresh again," commented Christina Young, CEO, who has a fine arts and digital media degree from the University of California, Berkeley. "The idea is that modern furnishings are cool, edgy, and detached; whereas, rustic furnishings exude warmth, personality, and charm. When the combination of modern cool and rustic charms is done right, it is totally refreshing and savory."
POSH365 curators travel the world to scout out interesting stylish home goods like modern chairs, sophisticated sofas, vintage vases, plush rugs, fun pillows, contemporary art works, industrial lighting, rustic dining tables, sleek dinnerware, and other artsy home decor that catch their eyes. "We are extremely selective about what we put on our site. When we see a piece of fine furniture or home décor, if it is not something we love, it won't be shown on our site. Each piece tells a story and has a personality." Wan elaborates passionately, "We appeal to customers that have unique tastes and know what they want. They have a strong sense of style and aesthetics. We love to keep building the POSH365 community."
POSH365 features "Shop by Style" collections, where members can shop curated themed collection of furniture and home decor each handpicked from stylists and offer all members free style advice. The POSH365 team draws inspiration from other online sources and their own interests. "We are constantly inspired by the eclectic, rustic, picturesque designs from Pinterest, Style Me Pretty, and Etsy. Yet, we love the simple lines of modern, urban aesthetics," Young adds. "We love both styles and have a way of putting them together and finding a fine balance in between two styles. It's like matching a leather biker jacket with a pretty lacy dress, which combines the edginess with the feminine. These days, people like to reinvent themselves, express their individuality, and not be boxed into any specific style. We found that there are a lot of us out there that are attracted to not only one style, but multiple. This desire to mix and match allows people to completely customize and create their own unique styles. However, there aren't a lot of companies that curates these different aesthetics together, so we decided to carve out this niche market as our competitive advantage."
POSH 365, Inc. offers special members-only discount and special deals as a means to create awareness and build their customer base. Their number one goal is to keep customers happy by sourcing fresh, distinctive products that have ongoing appeal on them. POSH365 offers free shipping on orders over $75, 30-day easy returns, and will match competitor pricing. Celebrate life in style with http://www.POSH365.com.