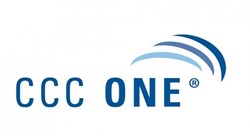 Chicago, IL (PRWEB) November 06, 2013
The Collision Repair Education Foundation (CREF) honored Freedom High School of Freedom, Wisconsin last night at the SEMA Show in Las Vegas with a $10,000 classroom makeover grant furnished by a donation from CCC Information Services. The Freedom High School Automotive Repair Program is a nationally recognized program, educating and preparing students for a career in collision repair for more than 40 years. CCC Information Services is a leading provider of software and services to the automotive claims and collision repair industries and a longtime supporter of CREF.
"The tools, technology and information needed to complete quality repairs have changed a lot since I was a student in this very program more than 10 years ago," said Jay Abitz, Instructor, Freedom High School Automotive Repair Program. "CCC has been kind enough to donate estimating software to our program for many years, but the classroom makeover grant was something I never expected. It has allowed us to buy educational DVD's, equipment and most importantly a tablet device, which means we can work with the latest technology and keep our students on the front edge of innovation. We appreciate what CREF and CCC has done to support our program."
"CCC is one of only five industry organizations that have donated over $1 million to the Collision Repair Education Foundation in the charitable organization's lifetime," said Brandon Eckenrode, Director of Development, CREF. "We would like to thank CCC for helping to provide Freedom High School with the classroom tools and equipment needed to provide an updated technical education to their collision students."
"CCC is proud to support collision repair education programs like the one Mr. Abitz and Freedom High School have established," said Joseph Allen, General Manager of CCC's Automotive Services Group. "It's critical that schools keep pace with technology advances so that their students are best equipped to enter the industry. The Collision Repair Education Foundation's Classroom Makeover program is a great way for CCC to help schools stay ahead of the information and technology they need to prepare the next generation of collision repair professionals."
To learn more about the great work taking place through the Freedom High School Automotive Repair Program, read an interview with instructor Jay Abitz: http://ccc.cccis.com/pages/news_detail/352.php?article_id=201. To learn more about CCC, please visit: http://www.ccc-one.com.
About Freedom High School Automotive Repair Program
The Freedom High School Automotive (FHSA) program came to life in 1972 under the guidance of Bob Abitz, who built the program over an outstanding 35 year career. Over the years this program has grown into one of the most renowned and accredited programs in the state and even the nation. FHSA is probably best known for its success through the SkillsUSA (formerly VICA) collision repair contest with 22 state champions (state record) and multiple finishes inside the top 10 at nationals. One of the things that make the FHSA program special is the focus on collision repair. Since 1972 FHSA has taught collision repair techniques such as panel replacement, metal working, welding, plastic repair, cosmetic repair, and refinishing. Students also experience restoration and custom work emphasizing skills like metal and composite fabrication, rust repair, and custom painting and refinishing. It is the goal of the automotive program to expose students to a variety of hands on experiences to prepare them for a career in the automotive industry or personal vehicle maintenance and repair. Students use a variety of current industry standard repair techniques, tools, and materials to complete repairs on vehicles.
About Collision Repair Education Foundation
The ultimate goal of the Collision Repair Education Foundation is to create a future in which every entry-level technician hired will have graduated with the necessary skills and understanding of new technology to be well-trained, productive, and efficient employees from day one on the job. We are committed to helping the industry recruit and educate students of the highest caliber, and to increasing graduation rates in training programs. We are committed to making sure that students in every market have access to the very best collision repair education. And, most of all, we are committed to the future of our industry as a highly-skilled, rewarding career choice that provides jobs that won't be outsourced, enhances the economic wellbeing of local communities, and saves lives. Visit us at: http://collisioneducationfoundation.org/.
About CCC Information Services Inc.
CCC brings together what matters most - insight to make the best decisions, connections into the industry's leading auto claims network and superior productivity through an innovative single platform. Founded in 1980, CCC is the nation's leading provider of advanced software, workflow tools and enabling technologies to the automotive claims and collision repair industries. Its client base includes more than 350 insurance companies and more than 21,000 repair facilities. CCC also delivers the most comprehensive, best-in-class industry insights by leveraging data captured from the millions of transactions processed through its network, and the forward-looking, trusted advisor perspective of its people. You can find out more about CCC Information Services Inc. by visiting the company's web site at http://www.cccis.com.