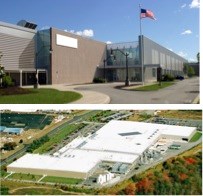 Boston, MA (PRWEB) November 05, 2013
Hackman Capital Partners, LLC and Calare Properties, Inc., announced today that Nypro has leased the remainder of the 448,000-square-foot, high-tech industrial building at 112 Barnum Road in Devens, Massachusetts with plans to create 165 new jobs. Nypro was represented in the transaction by Bob Gibson, Ed Jarosz and Rachel Marks from CBRE.
Nypro, recently acquired by Jabil Circuit, Inc., manufactures precision plastic products for customers in the healthcare, packaging and consumer electronics industries. Nypro will occupy approximately half of the building, while Saint-Gobain, a worldwide manufacturer of industrial crystals and ceramics systems, will continue to occupy the other half.
"The building's infrastructure, quality construction and design, plus other robust manufacturing amenities, all make 112 Barnum Road the perfect fit for Nypro," said Michael Hackman, founder and Chief Executive Officer of Hackman Capital Partners. "We're excited to have the company as a tenant and that they'll be bringing jobs to the community."
Located in Devens Barnum Business Park, the state-of-the-art manufacturing facility was constructed in 2008 by Evergreen Solar. Unique features included oversized and highly complex air handling and humidification, air and process cooling, power supply and distribution, compressed air production and distribution, specialty gas distribution, and waste water and hazardous material treatment systems. Hackman and Calare transformed the specialized, single-tenant facility for multiple-tenant use, which required redesigning and reconfiguring the building's high-capacity mechanical and electrical systems for independent use and control by multiple tenants.
Hackman Capital Partners and Calare Properties acquired the state-of-the-art facility through an affiliated entity in April 2012. The complex three-way transaction, between Hackman/Calare, Evergreen and MassDevelopment, from whom Evergreen was leasing the land, took about a year to complete due to Evergreen's complicated bankruptcy, real estate and equipment issues. In addition to the building, Hackman and Calare purchased the land from the state agency and Evergreen's remaining process equipment.
The complexity of the acquisition and the challenges overcome to reposition the building won Hackman and Calare the Boston Business Journal's "2013 Deal of the Year Award" in the Industrial/Flex category.
"The project showcases our core strength of creating value when investing in distressed and undervalued properties. We are thrilled to have the building completely occupied, and we welcome Nypro," said William Manley, Managing Partner and Chief Investment Officer of Calare Properties.
Hackman Capital Partners and Calare Properties own, through affiliated entities, 8.8 million square feet in the Northeast, including 18 buildings totaling 4.7 million square feet in Massachusetts.
More About Hackman Capital Partners, LLC.
Founded in 1986 and headquartered in Los Angeles, Hackman Capital Partners is a privately held, asset-based investment firm that focuses on the acquisition of industrial real estate and the purchase and sale of industrial equipment. The firm currently owns, through its affiliated entities, more than 270 facilities throughout the United States, totaling approximately 25 million square feet and more than 20,000 acres of developable land. Hackman Capital Partners also has conducted hundreds of equipment acquisitions, dispositions, and liquidations on four continents. With more than 27 years of experience in acquisition, redevelopment, and asset management, Hackman Capital Partners is known across marketplaces for its ability to successfully navigate complex transactions and financial restructurings involving real estate and equipment. For more information, visit http://www.hackmancapital.com.
More about Calare Properties, Inc.
Calare Properties is a private, Massachusetts-based investment firm with a focus on value added industrial and flex/office real estate in the Northeast. Since the firm's inception in 2000, Calare has invested over USD 200 million of equity capital, representing over USD 600 million in assets through five funds and several other investment vehicles on behalf of select private and institutional investor partners. For further information, visit http://www.calare.com.
###