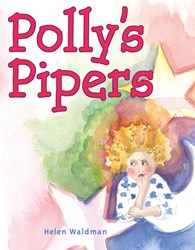 Young readers are invited to join Polly on a colorful, and whimsical adventure.
Dallas, Texas (PRWEB) December 23, 2013
Last minute "stocking stuffer" for tiny tots begin with a great book. What better time than now to bring family together to start making future memories.
New children's book and Gold Ink Award Winner "Polly's Pipers" (Brown Books Publishing Group) by Helen Waldman, with illustrations reminiscent of a Norman Rockwell painting and a splash of 'glitter,' invites young readers to join Polly on a whimsical adventure to find her missing "pipers." But what are "pipers" and where can they be?
Have you ever lost your favorite ball? Has your teddy bear gone missing? Did you look everywhere for it – under the bed, inside your closet, and even in the backyard?
Inspired by a true story, "Polly's Pipers" is a lighthearted children's picture book about a little girl who is upset that her important "pipers" have gone missing.
"Colorful, vivacious, and ever so lightly exaggerated illustrations bring this tale of hustle and bustle to life."––Midwest Book Review
Like most young children, Polly is trying to communicate using words that mean something to her, but not necessarily to anyone else. Mommy wants to help and joins the search. Together they embark on a whimsical adventure to find the missing "pipers."
"Polly's Pipers" is sure to remind parents, and grandparents of their own lively hunts for missing treasure, evoking a sense of nostalgia while teaching a valuable lesson about communication to their children and grandchildren. Educators will equally enjoy reading this sweet story aloud to young students, and creating interactive activities such as treasure hunts, word scrambles, and word finds.
Sophie, San Francisco/Sacramento Book Review, "Kid's Review" says, "I like when Polly finds her "pipers." That is my favorite picture in the book. Sometimes I lose things. My mommy and daddy help me look for them just like Polly's do. I like this book and I think other kids would like it too."
In Polly's case, young readers will soon learn that her "pipers" actually mean papers! Will she find them? Join Polly and find out.
To learn more, visit: http://www.PollysPipers.com.
Books are available online and in bookstores.
About Brown Books Publishing Group
Founded by Milli Brown in 1994, Brown Books Publishing Group is a full-service, independent publisher of high-quality books across all genres, from non-fiction to fiction. Committed to producing award-winning books for authors who choose to retain the rights to their intellectual property, Brown Books publishes more than one hundred titles a year and has won numerous, prestigious awards including the Writers Digest Grand Prize, Mom's Choice Award, Foreword Book of the Year, Gold Ink Award, Axiom Business Book Award and many more. Brown Books authors have appeared on programs such as Piers Morgan Live, Oprah, the Today Show, FOX News, Face the Nation, CNN, and BBC News. They have been featured in publications such as USA Today, Publishers Weekly, and the New York Times. In addition, they have been guests on NPR programming, including The Diane Rehm Show, Morning Edition, The Takeaway, and Tell Me More. To learn more, visit: http://www.brownbooks.com.
# # #