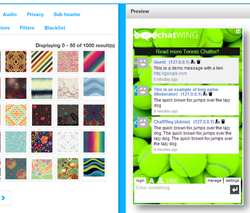 Cambridge, MA (PRWEB) November 05, 2013
Chatwing's team of brilliant developers have launched the chat app 3.0—a new platform capable of connecting users to large communities and social groups. The chat app can also bring large waves of traffic to any blog or website. In this latest version, the developers have also improved the platform performance so that forum makers can use it as often as they want.
Chatwing Research Team has observed in the past months that forum makers are fond of using the chat box because of its efficiency in communication. Registered chat software users were also fascinated by the chat platform's flexible customization functions—different types of designs are possible and each user is capable of making as many chatrooms as possible.
"Customization can be everything for a forum. Once a chatroom blends with the overall appearance of the forum, visitors tend to stay longer," Ivan Diamond said. He is one of Chatwing's elite developers. "Of course, we should not forget about the way administrators deal with their visitors. Appearance is a large thing, but interaction is greater. Without proper interaction, the visitors will lose their morale and they will leave the forum. Chatwing chat app simply provides all tools for interaction—social media, chat networks, and even photo-sharing."
The developers of the chatroom ensure that more features will appear in the coming months. These features will also improve the way web users are experiencing the communication leverage offered by the embeddable chatroom.
About Chatwing.com
Chatwing.com is a company that has brought innovation to the modern chat widget. Operating for more than five years now, Chatwing and its team of developers have dozens of ideas ready to be introduced to the public. The Chatwing chat app is an easy-to-use online tool that can help web users interact with each other and can also generate continuous traffic. Chatwing will always be a "freemium" application for everyone.