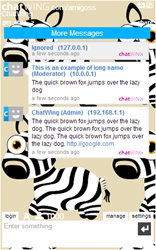 New York, NY (PRWEB) November 06, 2013
In order to help users gain more knowledge about the Chatwing chat app, the company's developers and researchers have pointed out several advantages. These advantages are focused on the importance of social media, multi-pronged connection, niche-centric networks, and the benefits of premium services.

Social media sharing. This feature has been introduced so that chatroom owners can share important conversations to their social networks. According to Chatwing researchers, the social sharing option is an easier way to increase the exposure rate of the chatroom. Once the conversations are shared, the website chatroom owner's friends and peers will be able to visit periodically.
Multiple login options. Currently, Chatwing chat app has Facebook, Twitter, Google, and Yahoo login methods. With these methods, visitors of the chatroom have greater flexibility regarding the way they connect with each other. Marketers can benefit from these login options because their online campaigns will be accomplished with ease. Chatwing developers have also increased the login speed for Facebook and Twitter.
More chat networks. Upon seeing the popularity of the chat app networks, the development team has added new options. Now, web users can visit basketball network, humor, movies, fashion, adult, and other networks that are popular. These networks are other options for greater connectivity.
Premium leverage. Chatwing users can now purchase premium services through the virtual coin system. Each premium service costs 1 coin per month, and they can be terminated anytime. The company ensures that more services are now being conceptualized in the springboard.
Updates about the Chatwing chat software are always available in the Facebook page and Twitter account. Web users are encouraged to visit those networks to gain more helpful information.
About Chatwing.com
Chatwing.com is a company that has brought innovation to the modern chat widget. Operating for more than five years now, Chatwing and its team of developers have dozens of ideas ready to be introduced to the public. The Chatwing chat app is an easy-to-use online tool that can help web users interact with each other and can also generate continuous traffic. Chatwing will always be a "freemium" application for everyone.